More shooting victims turn up in South DeKalb
5/23/2014, 3:39 a.m.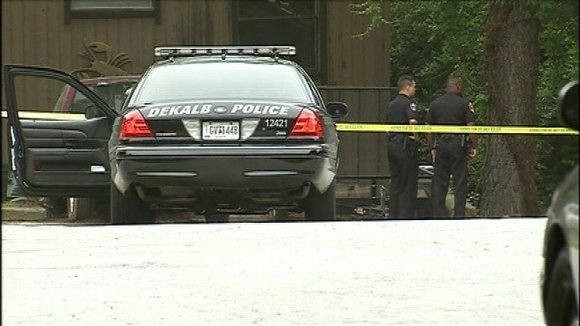 DeKalb Police have identified two women killed in a mysterious shooting on May 19 at a townhouse complex off Snapfinger Woods Drive in Decatur, but they have more questions than answers.
The victims on Shellbark Road were identified as Shaniqua Camacho, 20, of Lawrenceville and 21-year-old Sonia Williams of Norcross.
It's not known why they were in the complex.
DeKalb Police spokesman Capt. Stephen Fore said no witnesses have come forward and investigators do not have a motive for the crime.
"The investigation is ongoing and we are asking anyone with information to contact Crime Stoppers."
The killings are the latest in a string of unsolved shooting deaths that began on May 3 in Stone Mountain with the slaying of 29-year-old Michael Phillips on North Hairston Road. Nine-month-old Kendarius Edwards was killed on May 10 on To Lani Farm Road when two men invaded his home and shot three women, who survived.
The DeKalb Crimetrac Web site lists 28 shootings in DeKalb between Jan. 1 and May 21 and a total of 800 crimes countywide. Nine of those gun incidents occurred in South DeKalb.
The bodies of Camacho and Williams were found on Shellbark Road by a resident of the Walden Pond community next to her car as she was leaving for work Monday morning.
Police said both bodies were found outside "very nearby" each other. One was on a sidewalk and the other was in a grassy area.
Fore said that someone reported hearing shots overnight.
"But we were not notified until 6 a.m. when someone came out and observed one of the victims," he said.
Victoria Matthews was one of the residents who heard sharp noises about 4 a.m. Monday.
"It sounded like shots, but we've heard people firing weapons in the air along Snapfinger Woods before and no one's been hurt until now," she said.
Investigators say they are trying to find out whether the Shellbark Road slayings are linked to the earlier shootings.
The rash of shootings has ignited concerns over violent crime and public safety in South DeKalb and throughout the county.
Demontay Cullins, 18, was arrested and charged in Phillips' death. Police later charged Oslushla Smith, 19, and his brother, Cutrez Johnson, 16, in the case.
In the shooting that killed the baby, his grandmother, mother and a family friend – women ages 36, 23 and 21 – were shot. One of them is four months pregnant. Police have not identified the women.
Also on May 10, Alexis Malone, believed to be a witness to Phillips' May 3 slaying, was shot and killed after being lured to a park on Agape Way in Decatur. Kayla Dixon and Oslushla Smith are charged in her death.

Investigators think the attack that killed the baby may have been in retaliation for the May 3 shooting because Smith and Johnson are brothers of the baby's uncles, but they have made no arrests in the baby's death.
Right Choice, a coalition of DeKalb pastors, is trying to raise $10,000 for a reward for information leading to an arrest in the baby's death. Bishop Quincey Carswell said they have already raised $5,000.
"We're going to find the killers of this baby," he told a news conference Wednesday outside the house on To Lani Farm Road.