Swim season kicks off for Memorial Day weekend
Ken Watts | 5/23/2014, 6 a.m.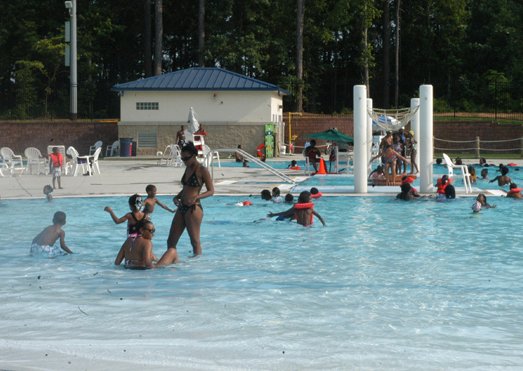 Atlanta is about to heat up, and just in time for Memorial Day, public pools across the county are opening this week.
The swim season begins May 24 and ends Aug. 1. Select pools will stay open on weekends through Sept. 1. Children ages 8 and under must be accompanied by an adult.
The seven outdoor pools and aquatic center operated by the DeKalb Department of Recreation, Parks & Cultural Affairs are Gresham, Lithonia, Tobie Grant, Kelly Cofer, Medlock, Midway and Kittredge and the Browns Mill Aquatic Facility in Lithonia.
The N.H. Scott pool is not in operation for this swim season.
Private, semiprivate and group swim lessons are available for all ages. Competitive swimming is available for children and teens ages 5 to 18 with the DeKalb Swim League.
Pool schedules
To cool off this summer, visit these pools, noon to 6 p.m. Tuesday through Saturday. They are closed Mondays:
Gresham, 3113 Gresham Road in Atlanta (404-244-4937).
Lithonia, 2501 Park Drive in Lithonia (770-484-3051).
Tobie Grant, 644 Parkdale Road in Scottdale (404-508-7616).
Kittredge, 2535 N. Druid Hills Road in Atlanta (404-679-5925).
The following pools are open from noon to 6 p.m. Monday, Wednesday and Saturday. They are closed on Tuesdays:
Kelly Cofer, 4259 N. Park Drive in Tucker (770-270-6253).
Medlock, 874 Gaylemont Circle in Decatur (404-486-5904).
Midway, 3181 Midway Road in Decatur (404-244-4937).
Kelly Cofer, Medlock, Midway and Lithonia also are open from 1 to 6 p.m. on Sundays.
The Browns Mill Aquatic Facility at 4929 Browns Mill Road in Lithonia (770-414-2119) is open 10 a.m. to 8 p.m. Monday through Saturday and 1 to 7 p.m. on Sundays.
For more information, visit http://www.co.dekalb.ga.us/parks/pr-aquatics01.html.
Swim safely

The DeKalb Board of Health offers these water safety tips.
Adults should always supervise children 17 and younger, especially at private pools, which operate without a trained lifeguard present. Kids can drown in seconds and in silence.
All children should wear life jackets.
Don't use air-filled swimming aids (such as water wings) as life jackets.
Use sunscreen with at least SPF 15 and both UVA and UVB protection to protect against sunburn. Reapply after swimming.

Before entering a pool, rinse any loose dirt, oils and bacteria off your body
Don't swallow pool water and try to avoid getting water in your mouth.
Don't allow someone with diarrhea to swim. An ill swimmer can spread germs through the water and make others sick.
Change diapers in a restroom, not at the poolside.
Wash your hands with soap and water after using the toilet or after changing diapers.
Take your kids on frequent bathroom breaks. Don't wait for them to tell you they have to go because it may be too late.
Water clarity is an important part of pool safety. Clear water does not guarantee that the water treatment chemicals are balanced properly.
For more information, visit www.dekalbhealth.net.
Milam Park Pool opens

Clarkston's Milam Park Pool is now open for the summer. The season runs from Memorial Day Weekend through the Labor Day holiday. The 4,100-square-foot multipurpose zero entry pool has four 75-foot-long lap lanes, a wading pool, and other water features. It is located at 3867 Norman Road. For more information, call 404-296-6489.