Black Cultural Expo returns to North DeKalb Mall on June 5
5/30/2014, 6:05 a.m.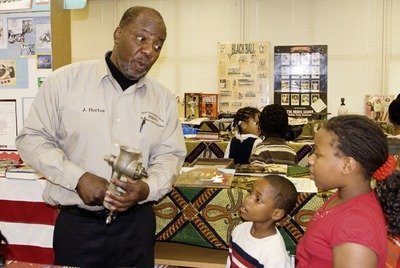 Just in time for summer camp trips, James Horton and his "Sights and Sounds Black Cultural Expo" will be back at North DeKalb Mall starting June 5.
The free exhibit, which runs through July 31 during mall hours, presents more than 8,000 artifacts that chronicle African-Americans roots to present-day America.
It will be housed near the Clock Court Atrium next to Bath & Body Works.
There will be storytellers, local authors, historical leaders and activities such as Wheel of Knowledge, Black History Quiz, and the Who I Am Computer Game.
Horton, a civil rights activist who was injured on the Edmund Pettus Bridge in Selma, Ala., during the 1965 protests, will greet visitors and answer questions.
Mary Joyce Burdge, the mall's marketing manager, said that the exhibit, a Black History Month mainstay at the mall, is back for the summer due to popular demand.
"We are asked so often, 'When is the black history museum coming back?'" she said in a May 21 statement. "Summer is a wonderful time for the museum for church field trips, family reunions and day camps."
North DeKalb Mall is at 2050 Lawrenceville Highway in Decatur.
To schedule group tours, call 404-966-2137 or 404-454-1462.
For more information, call 404-320-7960 or visit www.northdekalbmall.com.