Copper thieves strike Wesley Chapel Library
5/30/2014, 3:34 a.m.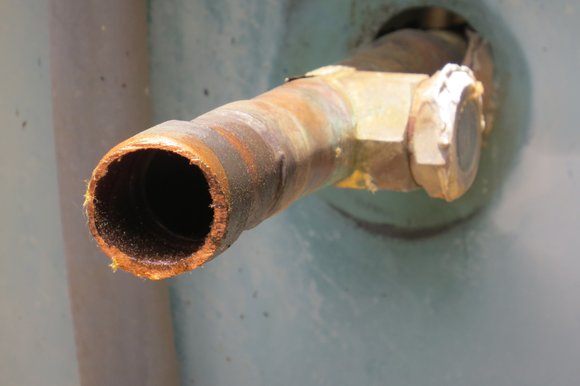 Staff and patrons at the Wesley Chapel-William C. Brown Library are sweltering as late spring temperatures soar.
The rising temperatures inside the Decatur library began May 22 after thieves raided its two HVAC units for copper and left the building without air conditioning.
Peggy Ramsey-May, the branch's manager, said they arrived at work to find the air conditioning not working last week.
"Apparently they came overnight Wednesday," she said.
Outside, library staff found the ground littered with insulation and only the sawed-off stump where feet of copper tubing once existed.
Before they vandalized the property, the thieves broke and redirected the library's security camera that covered the HVAC units.
Alison Weissinger, the DeKalb Library director, said that replacing or rebuilding the units will cost tens of thousands of dollars.
"It's not like you can run down to Home Depot and buy one of these," she said.
Weissinger said that reports were filed immediately with DeKalb Police and DeKalb County's Facilities Management Office that oversees county buildings, but she did not yet know how much it would cost and how soon the air conditioning would return to the library.
The timing of the theft couldn't have been worse.
Last week, temperatures began rising into the mid-80s, and with schools out for the summer break, traffic is up at the branch, which is a popular venue for kids.
On Wednesday afternoon, all of the branch's 18 computer stations were occupied and children and adults were reading at many of the tables.
At the checkout desk, the staff was trying to stay cool with two large rotary fans.
Ramsey-May said they had three more fans in the back where staff members work. There were no fans for library patrons, and some were sweating.
Mario Jackson, who was sitting with his 5-year-old daughter, Zeuri, on Wednesday, was trying to make the best of it.
"It's kinda hot in here," he said.
Jackson didn't know the reason for the high temperature and was surprised to learn that thieves would vandalize a library.
"I just thought the HVAC wasn't working well," he said. "It's bad that you have to go through things like this."
About 2:30 p.m., Darrell Wimby was sitting at a computer with beads of sweat on his face.
"It's a little warm in here," he said.
It was Wimby's second consecutive day at the library, and he said Tuesday was even hotter.
"I never thought people would do that," he said, brushing at the sweat around his nose. "I hope they fix it quickly."
An hour later, the library, which usually is open until 8 p.m., closed for the day. Last Saturday, it did not open at all.
Weissinger said it's library policy to close branches if the temperature gets to 85 degrees inside the building.
"At that temperature, it gets uncomfortable for everyone," she said. "The staff gets cranky, patrons get cranky. Everyone is sweating like a pig. It's miserable."
While this was the first time that the Wesley Chapel Library was hit by copper thieves, it's not the first time that library branches have been targeted.