Family, friends bid farewell to baby killed in shooting spree
Ken Watts | 5/30/2014, 6 a.m.
Fourteen days after he was shot to death by intruders at his Stone Mountain home, family and friends buried 9-month-old Kendarius Edwards on May 24.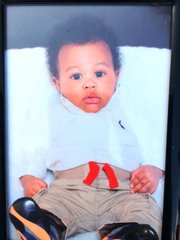 Four pallbearers carried his tiny mahogany casket from the hearse to the gravesite at Resthaven Cemetery in Decatur after a funeral service at Mount Ephraim Baptist Church in Atlanta.
The Rev. Darrell Edwards of Mount Ephraim led the final graveside prayers as grief-stricken loved ones bid a sad farewell.
Kendarius was killed on May 10, and his mother and two other women were seriously wounded when their To Lani Farm Road home was invaded by masked gunmen. Police think the attack may be related to a string of shootings that started on May 3 in South DeKalb.
Michael Phillips, 29, was shot and killed that day after a party at the Mountain Lake Apartments on North Hairston Road in Stone Mountain. Police arrested Kemontay Cullins, 18, in connection with the Phillips killing and later also charged brothers Oslushla Smith and Cutrez Johnson in the May 3 incident.
Alexis Malone, 19, a witness to Phillips' killing, was found shot to death in a park on Agape Way in Decatur on May 10, about five hours before the attack that killed the baby.
Police believe the home invasion may have been retaliation for the shooting of Malone. They say Smith and Johnson were the baby's uncles and either lived at the To Lani Farm Road house or had connections to it.
Police have charged Kayla Dixon with luring Malone to the park where she was killed. No arrests have been made in Kendarius' death.
Right Choice, a coalition of DeKalb pastors, is trying to raise $10,000 for a reward for information leading to an arrest in the baby's death. On Wednesday, Police Spokesman Cpt. Stephen Fore said the total has climbed to $7,000.
Investigators are trying to determine whether two slayings at the Walden Pond Townhomes off Snapfinger Woods Drive on May 19 are connected to the shooting spree. The bodies of Shaniqua Camacho, 20, of Lawrenceville and 21-year-old Sonia Williams of Norcross were found at the complex on Shellbark Road. Investigators do not know why the women were in the complex.