Give-A-Meal initiative offering food to homeless vets
5/30/2014, 5:44 a.m.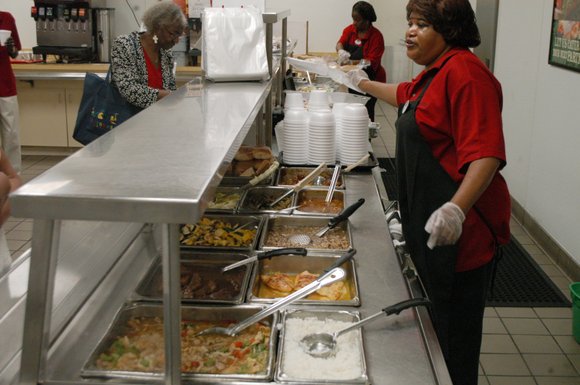 Homeless DeKalb County veterans no longer have to go hungry thanks to Give-A-Meal, a new initiative that allows anyone with $3.50 to buy a vet a hot meal.
Piccadilly Cafeteria Inc. will provide and deliver the meals in partnership with the Lou Walker Senior Center's Positive Force Coalition in Lithonia.
Give-A-Meal, which kicked off May 27 at the Lou Walker Center, is the brainchild of center Director Darryl Blackwell.
Donors will buy complete meals – entrees and sides – for $3.50 each at any Piccadilly restaurant in the county and the chain will deliver them to vets in any homeless shelter metrowide.
The meals will be available for purchase at www.louwalkercenter.com/giveameal starting in August.
Gwen Bonner, a Give-A-Meal coalition member, said homelessness directly correlates with hunger.
"This is a tremendous opportunity to give back to the community at a nominal cost," she said at Tuesday's kickoff.
The coalition, comprising 11 core members from the senior center, will oversee and manage Give-A-Meal.
Blackwell said its main goal is to ease the plight of homeless veterans by providing them with free, nutritious meals generated from the community.
"We're also partnering with Disabled American Veterans Chapter 91 in Decatur and they are identifying homeless veterans shelters around metro Atlanta so everyone will know exactly where those meals are going," he said. "They'll go to between five and 10 different shelters."
Online donors will be able to buy one meal or several and request that they be sent to a specific shelter beginning in August, Blackwell said.
Piccadilly already supplies breakfast and lunch at the Lou Walker cafeteria five days a week and was a natural fit for the initiative.
Blackwell said the $3.50 includes the cost of delivery.
"We're excited that we're able to do this at such a nominal cost and it'll be a tax write-off for the donor as well," he said.
Nationally, there are more than 57,000 homeless veterans, but the number in DeKalb and metro Atlanta is currently unknown.
In January, the Metro Atlanta Tri-Jurisdictional Collaborative on Homelessness conducted a first-ever survey of homeless vets for Veterans Affairs.
The data are still being analyzed and will be sent to the VA sometime this summer.
Bonner, the Lou Walker coalition member, said they began working on the Give-A-Meal initiative in November. She said veterans have fallen on hard times.
"The least we can do is to give back," she said. "There is an axiom that says, 'If I cannot do great things, I can do small things in a great way.' And that is our mantra, to give back to those who have given so much in the service of our country."