Imani Book Club marks 22 years
5/30/2014, 6 a.m.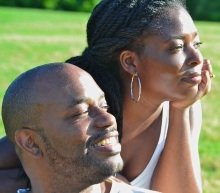 Husband-and-wife writing duo Nick Chiles and Denene Millner will headline the Imani Book Club's 22nd anniversary celebration on June 7 at the Wesley Chapel-William C. Brown Library in Decatur.
The author talk, funded by the Friends of the Wesley Chapel-William C. Brown Library, takes place from 1 to 3:30 p.m. with the Wesley Chapel Book Discussion Group as co-host.
Chiles and Millner are chroniclers of African-American life, culture and celebrity.
Both are New York Times best-selling authors who have co-written books with comedian and actor Steve Harvey, the Revs. Al Sharpton and Kirk Franklin, Massachusetts Gov. Deval Patrick, and actress Holly Robinson Peete, among others.
Their contemporary romance novels include "Love Don't Live Here Anymore" and "In Love and War."
Millner is founder of MyBrownBaby.com, an award-winning Web site that shares the joys and challenges of raising children of color.
Registration is required by June 2. Call 404-286-6980 or visit the branch to register. The library branch is at 2861 Wesley Chapel Road