Poet, activist 'leaves memorable blessing in hearts of millions'
5/30/2014, 6:04 a.m.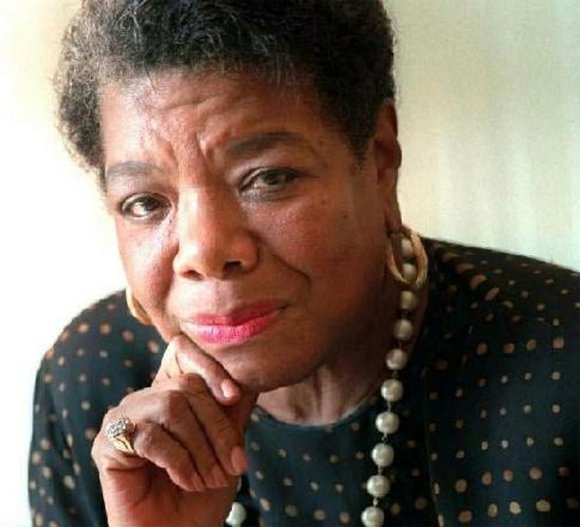 Maya Angelou, April 4, 1928 - May 28, 2014
"I've learned that people will forget what you said.
People will forget what you did, but people will
never forget how you made them feel."
By Jennifer Ffrench Parker
Poet laureate, author, singer, dancer, teacher, mentor, and wise renaissance woman Maya Angelou died May 28 at age 86.
Angelou, who burst on the writing stage in 1969 with her autobiography, "I Know Why the Caged Bird Sings," dropped out of high school at 16 to become the first African-American female streetcar conductor in San Francisco.
Her colorful life included five years when she refused to speak after she was raped at age 7 by her mother's boyfriend.
President Bill Clinton tapped her in 1993 to be his poet laureate on his first inauguration.
Born Marguerite Johnson in St. Louis, she grew up in San Francisco; was a single mother at 17; sang in a nightclub; worked as a prostitute; toured Europe with "Porgy & Bess"; taught American Studies at Wake Forest University for 32 years; recorded spoken word albums; and worked in music, television, film and literature.
She died at her home in Winston-Salem, N.C.
Her son, Guy B. Johnson, said her family is extremely grateful that her ascension was not belabored by a loss of acuity or comprehension.
"She lived a life as a teacher, activist, artist and human being," he said. "She was a warrior for equality, tolerance and peace. The family is extremely appreciative of the time we had with her and we know that she is looking down upon us with love."
Condolences poured in locally and from around the country.
Georgia Piedmont Technical College President Jabari Simama said we are all living in a better world because she chose to share her wisdom and made herself accessible to us.
"Maya Angelou will be remembered not only for her wit and wisdom, but also her compassion and grace," he said. "Because of her creative insight, we all know what the "caged bird sings."
The King Center called her "a woman of matchless compassion and an eloquent humanitarian activist and champion of the poor and oppressed of all nations."

"Maya Angelou leaves a great and memorable blessing in the hearts of the millions whom she touched with her artistry and she leaves behind a luminous vision of hope that will inspire millions more for generations to come," the statement said.
SCLC President and CEO Charles Steele Jr. said her work is legendary and moves throughout the hearts and minds of people everywhere.
"Dr. Angelou has left her footprint in the sand of the civil rights movement," he said. "Her contributions are undeniable as she stood against inequalities like Jim Crow. We will continue to use Dr. Angelou's writings and her life as a teaching tool to our history. Our history is the gateway to our future and in her words 'the more you know of your history, the more liberated you are.'"
In his salute, Motown founder Berry Gordy said Angelou was a towering cultural figure.

"She took the music of the heart and transformed it into words and imagery that moved my heart and the world's," he said. "She was a true friend. I will miss her."
Oprah Winfrey, whom she mentored for 40 years, said Angelou "moved through the world with unshakable calm, confidence, and a fierce grace."
"She will always be the rainbow in my clouds," she said.