Boyer will plead guilty to mail, wire fraud
Ken Watts | 9/2/2014, 10:01 a.m.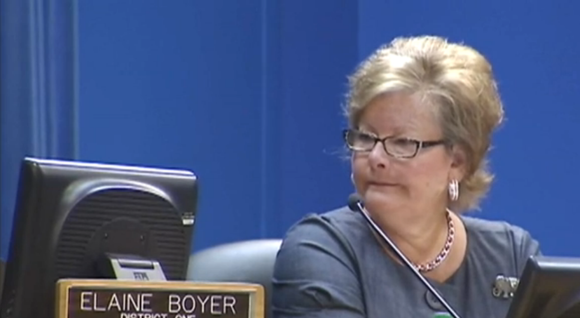 Former DeKalb commissioner Elaine Boyer will plead guilty to federal mail and wire fraud charges, her defense lawyer Jeff Brickman said on Aug, 26 after a bond hearing in U.S. Magistrate Court in Atlanta.
The development came one day after Boyer, DeKalb's longest-serving commissioner who represented District 1 in north DeKalb for more than 20 years, abruptly resigned from office, catching her constituents and county officials by surprise.
Brickman said Boyer will enter the guilty plea at her arraignment in the next week to 10 days and is cooperating fully with authorities.
However, U.S. Attorney Sally Yates said her office will seek jail time for Boyer.
"This is a serious crime. She's cooperating now after she was caught," Yates told reporters outside the Richard Russell Federal building. She said Boyer's guilty plea "doesn't wipe the slate clean."
Yates said Boyer took $90,000 in DeKalb taxpayer money in the fraudulent schemes.
Boyer made no public comment after the hearing, but as she resigned Monday said "I've betrayed the people; I've abused my position."
Boyer waived her right to a grand jury investigation so there is no indictment, but a federal criminal filing said "In or about September 2009 as the Commissioner of District 1 Boyer retained an individual (identified only as "Advisor') allegedly to assist her with government consulting and advisory duties on issues that affected her constituents."
The document said from September 2009 to November 2011, false invoices were submitted to Boyer's office for consulting services purportedly rendered by Advisor.
"In fact, Advisor performed no services for Boyer, constituents of District 1, or DeKalb County," the document said.
"Boyer used the false invoices as a basis to authorize payments to Advisor. Based on requisition requests from Boyer, DeKalb County mailed via the United States Postal Service, approximately 35 checks to Advisor for consulting services that were never performed. In total, DeKalb paid Advisor more than $78,000."
The filing said after being paid by DeKalb, Advisor funneled approximately 75 percent of the money received from the county into Boyer's personal bank account. Between September 2009 and November 2011, Advisor deposited more than $58,000 in DeKalb funds into Boyer's account while retaining the remainder of the money.
"In turn, Boyer used the money deposited into her account to pay personal expenses, including purchases at hotels and high-end department stores."
Count Two of the filing covers wire fraud, in which Boyer is accused of misusing her county-issued Visa purchasing card.
"From Oct. 2010 to Feb. 2014, Boyer made more than 50 personal purchases on her P-Card, including purchasing airline tickets and hotel rooms for herself and her family for personal travel." the document said.
On or about May 30, 2012, Boyer knowingly caused wire communications to be transmitted in interstate commerce authorizing $344.60 to buy a commercial airline ticket. "In total, Boyer made over $15,000 worth of purchases on her P-Card for personal goods and services," the filing said.
Boyer,57, was first elected in 1992 and at 22 years in office was the longest-serving commissioner. District 1, which she represented, covers an affluent swath of North DeKalb including Tucker, Smoke Rise, Dunwoody and Brookhaven.
She is free on $25,000 bond.