South DeKalb residents curious, skeptical about charter proposal
Ken Watts | 9/5/2014, 8:02 a.m.
Parents, teachers and stakeholders were full of questions on Sept. 2 when the DeKalb School System held its charter district forum at Towers High School in Decatur.
The group of 130 people wanted to know how local school governance teams will operate, how much autonomy they would actually have, what central office's role would be, and whether charter school policies would exclude some students.
The Towers event was one of five the district held around the county to garner input from residents as it prepares to petition the Georgia Department of Education for charter district status.
The School Board is expected to vote on the issue in October, ahead of the district submitting its proposal to the state by Nov. 1. If approved, DeKalb with its 100,000 students would become the largest charter system in the state beginning with the 2015-2016 school year.
Superintendent Michael Thurmond believes a charter system would give local schools greater autonomy and the ability to develop innovative classroom approaches to improving student achievement.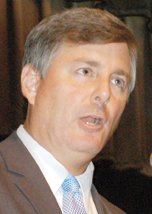 Region 3 Superintendent Trenton Arnold, who hosted Tuesday's forum, is also in charge of organizing the petition.
Nikole Allen, who lives in Decatur, said she wants the district to commit to class size reduction as part of any charter proposal.
She said small class size is a priority among many parents in her neighborhood near Midway Elementary.
Former School Board member Jesse "Jay" Cunningham said he's worried about the readiness of schools for local governance. He said some school councils are not functioning.
"My question is: Will steps be taken to make sure they are capable so we don't find ourselves behind the eight ball when it comes time to file the charter petition?" Cunningham said.
Arnold said there will be differences between district charter schools and existing start-up and conversion charters.
"Some decisions will continue to come from the central office," he said. "Local councils won't have everything dumped on them."

Another parent, recalling the district's issue with its accrediting agency, Southern Association of Colleges and Schools, wanted to know whether a charter district will have to be accredited in the same way as a traditional district.
Arnold said accreditation rules don't change.
"A charter district would have to be accredited just as we are now," he said.
Sundra Burdette, also of Decatur, said a charter district should make sure that resources are divided equitably between schools in the predominantly white north and the mostly black south ends of the county.
"We have a resegregated county and the schools reflect that," Burdette said. "I just don't want to see an even wider gap between the haves and the have-nots."
Arnold said the School Board would still control attendance boundaries and funding.
District officials also held meetings at Lithonia High in Lithonia, Lakeside High in Atlanta, Dunwoody High in Dunwoody, and Stephenson High in Stone Mountain.
Arnold said community feedback will be presented to the Board of Education on Oct. 6. He said the board could vote on pursuing the charter school system idea at that time or make its own suggestions to the district's petition.
For more information visit: http://www.dekalb.k12.ga.us/www/documents/flexibility-options/flexibility-advisory-committee/executive-summary.pdf.