GEMA offers tips to prepare for flood threat
3/13/2015, 4:51 p.m.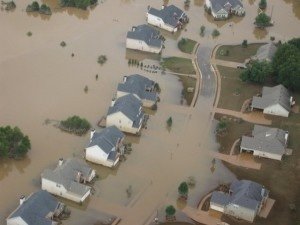 Spring is upon us, bringing warmer weather and a new set of severe weather threats.
Warmer weather provides ideal conditions for rain and heavy thunderstorms, which could ultimately lead to extremely dangerous conditions due to flooding. The Georgia Emergency Management Agency/Homeland Security's Ready Georgia campaign encourages residents to understand what they need to do before, during and after a flood.
During National Flood Safety Preparedness Week, March 16-20, Georgians can prepare for the possibility of a flood, practice emergency response procedures, and learn more about local threats.
Jim Butterworth, director of GEMA/Homeland Security, said floods are the No. 2 weather-related killer in Georgia.
"Many communities across the state experience some kind of flooding after spring rains or intense storms which produce large amounts of rain within a short period," Butterworth said on March 11. "Taking a few minutes to prepare can make you and your family much safer."
Floods are unpredictable and can be slow or fast rising but generally develop over a period of days. Flash floods usually result from heavy storms dropping large amounts of rain within a short period.

Nearly half of all flood-related deaths occur when people drive into floodwaters and their vehicle is swept away.

The Ready Georgia campaign offers simple, yet crucial, tips to prepare and stay informed about floods:
Before flooding
Know your area's flood risk – if unsure, contact your local emergency management agency or planning and zoning department or visit www.floodsmart.gov.
Talk to your insurance provider about your policy as it pertains to flood damage and consider if you need additional coverage.
Familiarize yourself with terms used to identify a flood. A watch means widespread flooding is possible in your area. Be prepared to evacuate. A warning means a flood is expected in your area within six to 12 hours.
Build a disaster supplies kit and prepare a portable Ready kit in case you have to evacuate.
Plan how you will leave and where you will go if you are advised to evacuate.
Create a communications plan and decide on a meeting place outside your neighborhood.
Determine an out-of-town contact. It may be easier to text or call long distance if local lines are overloaded or out of service.
Plan ahead for your pets.
Prepare your home. Keep important documents in a waterproof container in your Ready kit. Move your furniture and valuables to higher floors of your home.
During flooding
If it has been raining hard for several hours, or steadily raining for several days, be alert to the possibility of a flood.
Closely monitor a local radio station, TV station, NOAA Weather Radio or the Ready Georgia mobile app for flood information.
Follow the instructions of local officials.
Do not drive around barricades. They are there for your safety.
Never drive through standing water.
Move to higher ground away from rivers, streams, creeks and storm drains.
Stay out of floodwaters if possible.
Stay away from downed power lines.
After flooding
Do not return to your home until local authorities say it is safe.
For more information, visit www.ready.ga.gov.