One woman's fight to rid her community of litter and trash
Donna WIlliams Lewis | 9/4/2015, 6 a.m.
Cynthia Houston spends 10 or more hours a week, every single week, voluntarily picking up other people's trash.
Armed with her grabber and orange garbage bags provided by Keep DeKalb Beautiful, Houston works what she calls her "route" two or three days a week.
She starts in her subdivision, Stonington Trace, and then works her way down Stone Mountain-Lithonia Road to Rockbridge Road, sometimes beyond.
Along the way, she picks up trash from the front of homes and businesses, from empty lots and along the roadway. She fills about six large bags of trash per week.
This has been Houston's routine for the past 15 years.
Her tireless efforts won her a CEO's Community Hero Award in 2013. Last year, Keep DeKalb Beautiful named an award in her honor.
Nadine Rivers-Johnson, manager of the nearby Mainstreet Community Services Association, said Houston inspires others.
"She's the epitome of how things start at the grass-roots level," Rivers-Johnson said. "It starts with one."
Houston, who works full time as an administrative assistant, is grateful for the recognition but is motivated by the need.
"Where you live is a reflection on you," she says. "You are not going to come to my house and say it looks like the ghetto."
Houston says ghettos just don't pop up overnight.
"They are created by people who either don't care about themselves or their community," she says. "Anyone who throws trash on the ground, in the gutter or out of the car window is guilty of creating a ghetto."
Since her subdivision has no homeowner's association, Houston depends on help from DeKalb Code Enforcement to keep her community clean.
"My biggest passion is being an animal advocate," said Houston, who serves on the advisory board of the county's Animal Control division. "Trash is a pet peeve and picking it up is my second passion."
She takes that job super seriously. Here's proof:
Two Keep DeKalb Beautiful Adopt-a-Road signs on Stone Mountain-Lithonia Road don't list what you typically see: the name of a group. These signs bear the name of one person: Cynthia Houston.
When a new bus route opened along the mile-long stretch of road she cleans, Houston called to request garbage cans at each of six new bus stops.
She made alliances with MARTA officials, telling them some people would actually use garbage cans if they were there and that they shouldn't encourage bad behavior by not providing them.
"I feel like you should come home to an environment that's clean and not one that's making you feel depressed," Houston said. "I used to get, 'Why are you doing this?' People are finally stopping and saying 'thank you so much.'"
Recently, a passer-by stopped and gave her $20 to show his appreciation for her efforts.
Houston still remembers what he told her: "He said he told his son, 'This is the way you set an example. One person can truly make a difference.'"
Houston said that while you cannot change a person, you can change your community.
"Everyone has the ability to prevent their community from turning into a ghetto when they pick up trash," she said.
More stories in this Special Edition: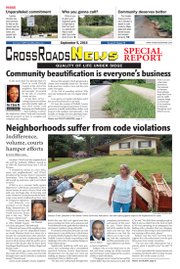 Communities suffer from code violations

Community beautification is everyone's business

Neighbors fought for 3 years to get rid of eyesore

County code officers encounter violations at every turn

How to resolve code violations

Where do you go for help when violations overwhelm?

Deplorable conditions abound in Towers community