$215 million projects coming to Kensington area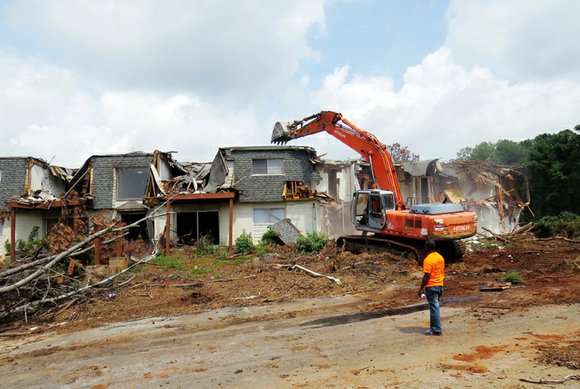 The proposed Downtown DeKalb planned near the Kensington MARTA station got another boost this week with the start of the demolition of the old Kensington Manor Apartments on Mountain Drive.
The 30-acre complex, which had been vacant since December 2014, is being cleared of its 14 buildings and their 308 apartment units to make way for the $120 million Avondale Hills project that will help anchor MARTA's Kensington Transit-Oriented Development.
Avondale Hills is one of two projects totaling $215 million that Miami-based Eikon Partners and Proterra LC are developing along Mountain Drive.
The other is the proposed Avondale Park that is seeking rezoning from commercial to mixed use from the county.
Carlos Arenas, Eikon Partners senior project manager, said they are investing in the Kensington area because MARTA's Transit-Oriented Development is a "wonderful idea."
"That's why we are there," Arenas said Tuesday. "There are three good conditions here. It is a great location, with two highways, I-285 and I-20. It has mass transit and the Clifton Corridor is going to connect with this part of town. There are few sites in Georgia where you can find all these things."
Arenas also said Avondale Estates is going to create a really good symbiosis with the projects and the city of Decatur is nearby.
DeKalb County, which owns 160 acres across from the Kensington MARTA station, plans a government center to relocate its operations from downtown Decatur, and in July, billionaire businessman Arthur Blank selected 41 county-owned acres behind the DeKalb County Jail for his Atlanta United FC Major League Soccer team's corporate headquarters, three practice fields and 3,500-seat stadium.
Georgia Piedmont Technical College and MARTA also are in discussion about the college locating a campus near its Kensington station.
GPTC President Jabari Simama said that as the college considers its expansion needs, it is exploring the possibilities of locating a special purpose campus as part of a Transit-Oriented Development, but it is only in the exploration stage at this time.
"It would be exciting to have a technical college campus on transit that focuses on hospitality, tourism, film, entertainment, television and music," Simama said in a statement. "Such a campus would mean that transportation would no longer present a barrier for students wishing to receive a quality education."
In 2016, Avondale Hills, Avondale Park and the Atlanta United Soccer Complex are expected to be under construction simultaneously.
Arenas says his company's goal is have both Avondale Hills and Avondale Park completed by summer 2017.
Atlanta United expects to have its complex ready for the start of the Major League Soccer season in March 2017.
Here is what Eikon Partners and Proterra LC have planned for the Kensington projects:
Avondale Hills
A 600,000-square-foot mixed-use development, the 31-acre Avondale Hills is being built on the site of the former Kensington Manor apartments, which overlooks the back side of the Kensington MARTA station. Eikon Partners and Proterra LC have owned the property since 2012.
The partnership is building:
48 single-family three- to five-bedroom homes ranging in size from 2,500 to 3,000 square feet. The homes will sell for $295,000 to $350,000.
66 two- and three-bedroom townhomes that will be 1,800 to 2,500 square feet and priced at $150,000 to $250,000.
38 one-, two- and three-bedroom condos for lease.
50,000 square feet of separate retail that will house an organic grocery store and a deli