$120M transit-oriented development at Avondale station
12/15/2016, 11:19 p.m.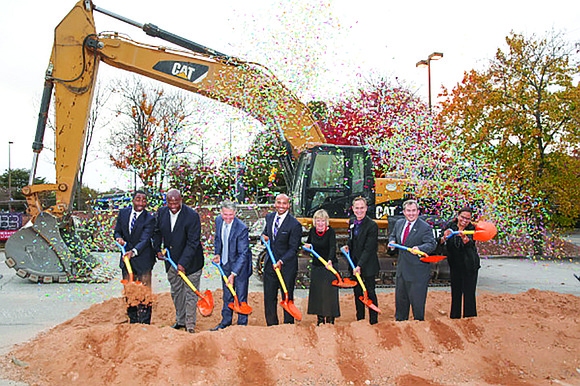 A $120 million transit-oriented development soon will be rising from the ground at the Avondale station in Decatur.
MARTA, Columbia Residential and Cortland Partners broke ground Nov. 28 on the 7.7-acre project that is going up on an underutilized parking lot on the south side of the station on East Ponce de Leon Avenue.
The pedestrian-friendly TOD joins projects underway at the Chamblee, Brookhaven/Oglethorpe, and Edgewood/Candler Park stations.
MARTA's TOD initiative seeks to increase ridership, generate revenue, and support both local community development and regional economic development.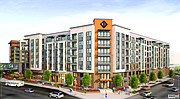 The Avondale project – to be called E. Co for East College Avenue – will be built in phases and will create about 200 construction jobs and 25 permanent positions. Its first phase is scheduled for completion in 2018.
The Decatur Downtown Development Authority selected Columbia Ventures as the development partner for the Avondale station TOD in 2014.
Decatur Mayor Patti Garrett said the station redevelopment plans began 13 years ago and became a much better project than they envisioned in 2003.
It is the second transit-oriented development for which MARTA broke ground this year. In August, it held a ground-breaking ceremony for its Edgewood/Candler Park station.
The Avondale station's E. Co development will be located at the highly visible gateway to the city of Decatur and is expected to be a catalyst for future growth and development in the district. Atlanta voters overwhelmingly approved two tax increases for transportation – including a sales tax to fund MARTA expansion – on Nov. 8.

The E. Co project is one stop from downtown Decatur and seven stops from downtown Atlanta. Six bus routes also serve this station, and MARTA's East Decatur Station, a mixed-use complex that features office space, dining, exercise, entertainment, art and retail options, is directly to its east.
E. Co will have office space, dining, entertainment and retail options with ample sidewalks and green space alongside a collection of mixed-use housing units. There will be 378 market-rate apartments, 92 affordable senior living units, a new plaza with 21,000 square feet of commercial space for shopping and dining, and other community amenities. An extension of the East Decatur Greenway PATH also will go through the site.

About 20 percent of its residential units will be reserved for households with incomes up to 80 percent of the area median income.
Upon full build-out, the transit authority says it will generate $800,000 annually in new property tax revenues to the city of Decatur and DeKalb County.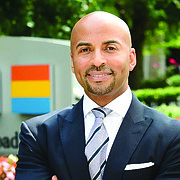 Keith T. Parker, MARTA general manager/CEO, said the development is a good fit for the area.
"E. Co will be a welcome addition to the already vibrant downtown Decatur and will mesh well into the fabric of the community," he said in a Dec. 2 statement. "Almost 40 years ago, this area had a renaissance with the addition of the Avondale station. We're excited to add to the convenience of this intown neighborhood with our newest TOD."