Sign up for Paddle Georgia 2016
2/5/2016, 6 a.m.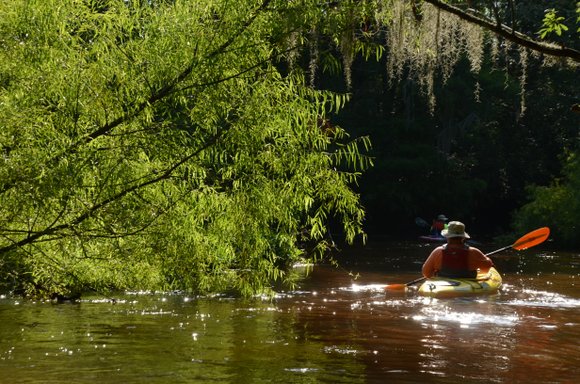 Canoeists and kayakers can start signing up for Paddle Georgia 2016, the country's largest weeklong river camping adventure from Dalton to Rome this summer.
More than 400 paddlers ages 4 to 84 are expected to make the journey.
Register at www.garivers.org/paddle_georgia/index.html. A very limited number of spaces are available for "Paddle Georgia Lite," an abbreviated version that includes just the first two days.
Proceeds benefit the nonprofit Georgia River Network and Coosa River Basin Initiative based in Rome.
The event will launch near Beaverdale just a few miles from the Tennessee state line on June 18 and travel south through northwest Georgia's Ridge and Valley region on the Conasauga, Oostanaula and Coosa rivers for seven days and 103 miles, finishing at Heritage Park in downtown Rome on June 24.
The event, billed as an environmental education adventure for the whole family, will celebrate its 12th year. Coordinator Joe Cook said it has a twofold mission.
"The purpose of the event is to connect people with Georgia's rivers while raising money to protect Georgia's rivers," Cook said in a Jan. 28 statement. "When people fall in love with rivers – and they do that on this trip – they are much more likely to take action to protect those rivers."
GRN has introduced more than 3,600 paddlers to more than 1,100 miles of water trails on 12 Georgia rivers. Along the way, the event has generated more than $300,000 for river protection.
Dana Skelton, GRN executive director, said the event has sold out in less than 24 hours in previous years.
"The Conasauga and Oostanaula are special rivers so we expect a strong response again this year," Skelton said.
Paddle Georgia 2016 will introduce paddlers to what is considered North America's most biologically unique river system. The upper Coosa River basin is home to 28 endemic aquatic species.
Daily paddle trips average 15 miles, and each night participants will camp at nearby facilities such as schools and parks. A street party in downtown Calhoun and a River's End Celebration in Rome also are planned.
Visit www.garivers.org/paddle_georgia or call Joe Cook at 706-409-0128 or Dana Skelton at 706-549-4508.