Thurmond kicks off campaign for DeKalb CEO with rally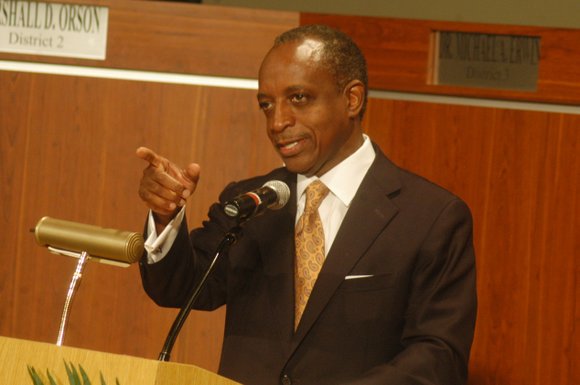 Former DeKalb School Superintendent Michael Thurmond is kicking off his campaign for DeKalb CEO with a rally on Feb. 20.
Thurmond, who announced his run for the county's top office on Feb. 16, is hosting the rally from 11 a.m. to 2 p.m. at the Comfort Suites in Tucker. He said he made the decision to seek the office after much deliberation and prayer with his family, friends and a broad cross section of DeKalb residents.
"I have decided to offer myself again to serve the citizens of DeKalb," he said Tuesday. "We need to restore confidence in DeKalb County government, and I trust my candidacy will be a step forward in uniting and strengthening our county."
Supporters had urged Thurmond, who steadied the DeKalb School System during its most recent turbulent past, to run for the office. Thurmond, a lawyer, author and college professor, was DeKalb Schools superintendent from February 2013 to June 2015.
In two-and-a-half years, he stabilized the district amid a crisis of leadership and potential loss of accreditation. He is credited with restoring the confidence of parents and taxpayers and putting the district on a solid path to full accreditation and financial solvency.
Thurmond helped cut the district's legal fees, eliminated furlough days for teachers, and established a $10.25-an-hour minimum wage. He also set aside $10 million to re-establish a pretax employee contribution retirement program, awarded cost-of-living increases, and set aside $500,000 for a board-approved district curriculum – something the district has not had in 15 years.
Thurmond, who lives in Stone Mountain, is a former Georgia labor commissioner, state representative, director of the Georgia Department of Family and Children Services, and candidate for the U.S. Senate.
Qualifying for the May 24 primary election is March 7-11.
Interim CEO Lee May, who has been in the office since 2013, says he will serve until Dec. 31 when CEO Burrell Ellis' term ends. May was appointed by Gov. Nathan Deal to replace Ellis, who is serving an 18-month sentence in state prison for corruption. May bowed out of the CEO race and says he is quitting politics for the ministry.
Connie Stokes, a former state senator and District 7 commissioner, and retired MARTA employee Calvin Sims have announced a run for the office. Sims was a candidate for CEO in 2004 and Commission District 4 in 2008.
Retired businessman Jack Lovelace, who has run for CEO, District 3 commissioner and tax commissioner, and Joe Bembry, who has run multiple times for state representative, CEO, and the Board of Commissioners, also say they will seek the office.