Volunteers work service projects for King Day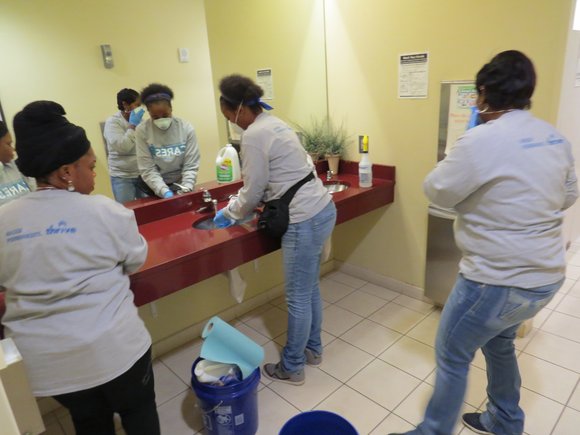 Despite the chilly weather, hundreds of volunteers cleaned up parks in the city of Lithonia and at Panola Mountain State Park, picked up trash around the county, and repaired and painted the homes of seniors.
At the Lou Walker Senior Center in Lithonia, more than 60 Kaiser Permanente employees from Lithonia to Marietta spent part of their King holiday cleaning and painting the center's restrooms, gym, locker rooms, and aquatic area. Doctors, nurses and pharmacists also volunteered at a mini-health fair where seniors from the center and the community got health screenings and a review of their prescriptions.
David Garrett, who lives in Stone Mountain, brought sons Jonathan, 20, and Michael, 14, to help him paint a hallway.
"They didn't have anything better to do," Garrett said with a laugh. "Plus it's a good opportunity to come out and work in the neighborhood."
Garrett said he has been bringing his kids to volunteer for years.
Michael, a ninth-grader at Miller Grove High, said he was glad to help.
"I help out the seniors and get to hang out with my brother and dad," he said. "I also learn to treat everybody right."
Jonathan, a Morehouse College freshman, said it's good to give back even if he was doing it on his birthday.
Sharon Getties Johnson, Kaiser Permanente's community service program manager, said that all across the county, Kaiser employees volunteered for the King holiday.
"A day of service aligns with our mission. It's a day on, not a day off. We are just happy to be here."
At First Afrikan Presbyterian in Lithonia, about 20 members spent four hours clearing overgrown bushes and brambles from the grounds of the church on Salem Road. They also spray-painted patio furniture and spruced up the Vanessa G. Knight Multipurpose building. Others tilled the soil in the Community Garden that provides fresh produce for members and residents in the surrounding neighborhoods.
Carlton Williams, a church elder, said organizers wanted to make sure children worked side by side with adults on the project.
"We're leading by example," Williams said. "We're trying to show our kids this is not just a day to sit down and play video games and say, 'I have a dream.' This is what the dream is about. We want our youth to take responsibility for the earth that we're leaving them."
Some kids bagged lawn trimmings, while others painted flagstones that will form a walkway on the church grounds.
In Decatur's Oakhurst neighborhood, more than 1,000 volunteers worked 12 hours over three days from Jan. 16 to Jan. 18 to repair and renovate the homes of senior citizens. The 14th Annual King Day Service Project was sponsored by Decatur in partnership with the Decatur Preservation Alliance.
Students from area high schools worked in the yard and painted inside the home of 86-year-old Rita Teal on South McDonough Street. Teal, who has lived in her home since 1969, stayed with her daughter, Shirley Marshall, over the three days while work was being done.