Community wants loss of black lives to end
Ken Watts | 7/15/2016, 8:54 a.m.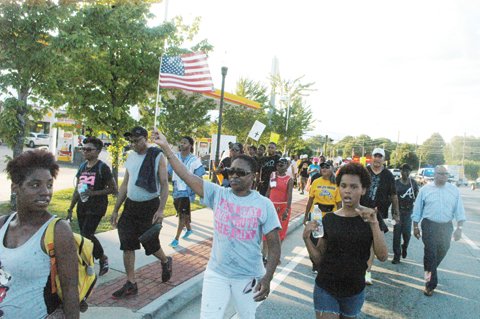 In the aftermath of a tragic week that saw two African-American men shot and killed by police in Baton Rouge, La., and in a suburb of St. Paul, Minn., and five police officers killed by a sniper in Dallas, nearly 900 people packed the House of Hope in Decatur on July 12 to discuss a "strategy for change."
Nationally syndicated radio talk show host Rickey Smiley and a panel of Black Lives Matter activists, entertainers, civil rights legends, and police officials led an emotional town hall conversation on how to end the cycle of violence in which police around the country have killed so many black men.
The panelists included David Banner, rapper; Gerald Griggs, attorney; Cariol Horne, former Buffalo, N.Y., police officer; DC Young Fly, comedian; the Rev. C.T. Vivian, activist; Kwanza Hall, council member; Dr. Bernice King, King Center executive director; Cedric Alexander, DeKalb Public Safety director; ET of Durtty Boyz, Hot 107.9; Kenneth Braswell, Father's Inc.; 2Chainz, hip-hop artist; Shawn Jones, assistant Atlanta Police chief; actor Tyrese Gibson; R&B singer Lyfe Jennings; and Young Jeezy, rapper.
The discussion, carried live on Atlanta's Hot 107.9, Majic 107.5, Praise 102.5, and Radio One Atlanta and covered by local television news outlets, gave panelists and citizens a broad forum for their anger.
Banner, one of the most outspoken panelists, said that he was happy to see African-Americans mobilize.
"But I'm tired of seeing black men getting killed and we end up in the same place," he said. "Nothing will really change until these killings cost the white power structure jobs, money and treasure. There must be real consequences, even physical consequences."
R&B singer Lyfe Jennings disagreed, calling the idea of getting physical with police "crazy."

Actor Tyrese Gibson had to separate the two men briefly but they quickly calmed down.
Audience member Bri Cole of Atlanta said her experience in Black Lives Matter demonstrations after the Louisiana and Minnesota shootings supports the need for economic pressure to force change.
"We marched through downtown Atlanta," she said. "We blocked streets in Midtown. We marched to the Downtown Connector and nobody got arrested. But we marched on Buckhead, where the money is, that's when a lot of us got picked up."
America's latest racial flare-up was ignited by the fatal shootings of Alton Sterling by police in Baton Rouge on July 5 and Philando Castile in a suburb of St. Paul on July 6.

In Baton Rouge, a video recording showed two white police officers pulling Sterling, 37, to the ground outside after responding to a call about an armed man. The video showed one of the officers pulling his gun and shooting Sterling, who was pinned to the ground, and after the shooting, pulling Sterling's gun from his back pocket.
The officers – Blane Salamoni, who has been with the force for four years, and Howie Lake II, who has three years of service – are on paid leave.
On July 6, Louisiana Gov. John Bel Edwards announced that the U.S. Justice Department has opened a civil rights investigation into the case.