Midnight basketball league builds relationship between kids, police
Program breaks down walls, misperceptions
Donna Williams Lewis | 7/22/2016, 7:24 a.m.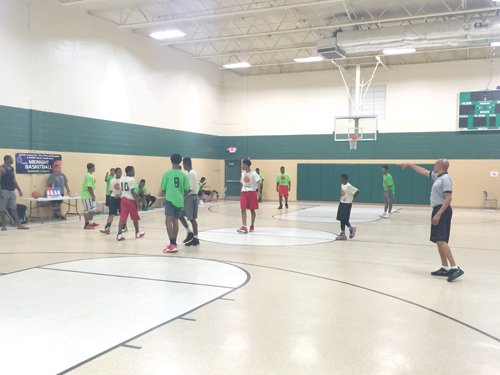 On the surface, the event looked like nothing out of the ordinary.
About 90 teenage boys were gathered for their sixth week of midnight basketball on Gresham Park Recreation Center's two full-sized courts.
But while some of the players were there by choice, about half were playing as part of their probation.
Organizers knew that members of rival groups were likely in the mix of their seven teams on the courts. One kid didn't want to play because he was afraid his ankle monitor would get exposed.
The coaches and referees were heavy-duty authority figures – police officers, a school resource officer, even some of the players' Juvenile Court probation officers.
But here, in a basketball oasis, peace prevailed.
This was the DeKalb County Police Athletic League Plus Midnight Basketball Summer League, a program that is breaking down walls that can divide kids from each other and from the adults who have power over them.
"It's fabulous," PAL's commander, Maj. Sonya Porte, said at the July 14 event. "If we can learn how to deal with them and they can learn how to deal with us, then we can open communication. Does that mean we're going to solve everything? No, but it's a start, absolutely."
At one point during the night, DeKalb Police Sgt. R.L. Franklin asked the teens for their opinion on a topic consuming the country.
"Raise your hand if you don't like the police," said Franklin, a 22-year member of the force. "Tell the truth. You won't hurt my feelings."
Two hands immediately shot up from among the 90 kids. A couple more hands then hesitantly followed.
"Well, that's progress," Franklin said.
Last week, when he asked them the same question, almost every hand was raised.
Life skills sessions included
It is shortly after 9 p.m. at Gresham Park, and midnight basketball is about to begin.
DeKalb Police Detective K. Ricketts, who founded and coordinates the league, kicked off the games just as he's launched all of the others.
"If you're part of any gang, clique, crew, or 'rap group,' I don't want to see any affiliation in here," Ricketts says. "If I see you doing a special handshake, you and me are going to have a special handshake."
With that business handled, the mandatory pregame life skills session begins.
In the first two weeks of the league, the kids spent this time in team-building exercise boot camps conducted by Franklin, a former SWAT team leader.
Since then, their life skills sessions have included presentations from local business owners, a Georgia Piedmont Technical College representative, and Detective J. Menefee of the police department's gang unit.
The sessions have led to two players getting their first jobs at fast-food restaurants and to a meeting with that college rep for another player.
For the July 14 session, Franklin talks about the police and the power of perceptions.
He tells them how he was pulled over by police officers five times in a row when he was driving to Dunwoody on police business in the late '90s.