Boule records housed at Emory's Rose Library
7/22/2016, 7:27 a.m.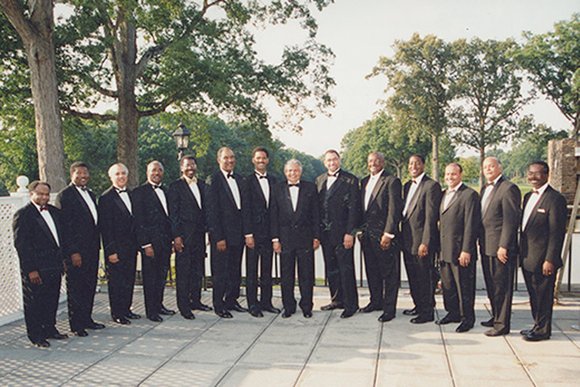 The records of the first post-graduate fraternal organization for African-American men, Sigma Pi Phi, are now housed at Emory University's Stuart A. Rose Manuscript, Archives, and Rare Book Library.
Notable members have included W.E.B. Du Bois, Dr. Martin Luther King Jr., Vernon Jordan, Benjamin Mays, and Whitney Young.
Sigma Pi Phi, also known as the Boulé, was founded in Philadelphia in May 1904 by Edwin Howard, Algernon Jackson, Henry McKee Minton and Richard Warrick. It was the first Greek-letter fraternity to be founded by African-American men. Unlike undergraduate fraternities, membership is limited to men who have already achieved some degree of success within their chosen profession.
Randall K. Burkett, research curator of African American collections at the Rose Library, said the Boulé collection includes a photo archive.

"This is an important organization within the African-American community, especially for the professional members who find mutual support and social interaction," Burkett said in a July 11 statement. "This collection helps us realize a fuller dimension of the richness of African-American life and culture. And we'll be able to make available to the public a deep photo archive – including black physicians, attorneys, CEOs and others at the top of their professions – that can't be found anywhere else."
Rose Library Director Rosemary Magee said Emory "is truly honored to have been selected to house the papers of this significant fraternal organization."
"These materials are significant additions to the extensive array of materials that chronicle the African-American experience," she said. "Scholars, students and faculty will benefit immensely from their presence here."
The Sigma Pi Phi collection consists of more recent administrative records (1941-2013) related to the fraternity and the Boulé Foundation as well as the Boulé Journal archive (1926-2015) and photographic collection of members and events (1987-2015). The historical records will remain with the archive at Fisk University.
James O. Cole, immediate past Grand Sire Archon (president) of the Boulé, said Emory was selected because of its outstanding reputation.
"The staff has the modern equipment and advanced methods to protect the rich history of our fraternity," Cole said. "They also expressed strong interest in working with Fisk University."
Cole said he is looking forward to interested individuals learning more about the Boulé through the Rose Library archive.
"In the past, the organization has been somewhat closed, and people were not aware of who was a member of the Boulé and the important role they played in our communities," Cole said. "Our members have played an important role in many issues of the day since 1904. We believe it is important for these facts to be known. We will continue to be active on the public issues of today."
After its founding in 1904, Sigma Pi Phi quickly grew into a national organization with chapters in Chicago, Baltimore and other cities. Chapter representatives met in Philadelphia in 1908 to establish the Grand Boulé to provide central leadership. The first edition of the Boulé Journal was published in 1912 to facilitate communications among its members.