Food & Fund drives help food insecure families
7/29/2016, 6 a.m.
Families, small church groups and schools as well as large corporations can make a difference in the lives of food insecure families and individuals by hosting a Food & Fund drive for the Atlanta Community Food Bank any time for any occasion.
For every dollar donated, the food bank is able to distribute more than $9 worth of groceries.
Food insecurity is defined as having limited access to affordable and nutritious foods. For the third year in a row, the U.S. Department of Agriculture reports that one in every six Americans is food insecure. The number has remained at or near 50 million Americans for the past four years.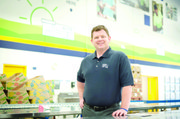 Kyle Waide, Atlanta Community Food Bank CEO, said financially struggling families face some difficult choices.
"When those choices involve food, they often cope by deciding to skip meals. They purchase less expensive food because it's what they can afford," Waide said in a July 6 statement.
"Families who are struggling eat food that is packaged and processed because those foods don't go bad and they don't have to fear they have wasted their money."
The U.S. Census Bureau reports that 46.7 million people (14.8 percent) live in poverty.
Feeding America's 2014 Map the Meal Gap Study shows 18.7 percent of Georgians don't know where they will find their next meal and 28.2 percent of children ages 5 and under are living in food insecure households.
Vulnerable populations often lack access to healthy food or the resources to acquire it with. The same communities also are disproportionately affected by diet-related chronic diseases such as diabetes, heart disease, cancer and obesity.
Each Food & Fund drive can be custom-made to fit an organization's abilities, whether large or small. Set the goal and the duration and provide the location, and the ACFB supplies everything else needed to help feed hungry residents.
In 2015, 2,000 food drives were conducted for the food bank, collecting 1.5 million pounds of food and raising $497,754 to help struggling children, families and seniors put food on the table.
Most needed food items include whole-grain cereal and crackers, whole-wheat pasta and flour, plain oatmeal and brown rice; shelf-stable milk (cow, soy, rice, etc.); dried or canned fruit in light syrup or juice; low-sodium, no salt added vegetables; low-sodium pasta sauce in plastic containers; foods high in protein; natural peanut butter (no hydrogenated oil); dried beans, peas and lentils; tuna, salmon and chicken canned in water, not oil; unsalted nuts; 100 percent fruit and/or vegetable juice; and olive, canola and cooking oil.
Struggling families also greatly need non-food items such as paper products, diapers and toiletries.
To start a drive, visit www.acfb.org/food-fund-drives. For more information, visit http://dph.georgia.gov.