Former aide to Barnes Sutton fined, reprimanded in ethics case
6/3/2016, 6 a.m.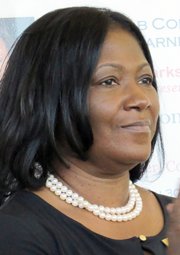 Judy Brownlee, former chief of staff for District 4 Commissioner Sharon Barnes Sutton, will pay a $1,000 fine and get a public reprimand for misusing her county-issued Visa card.
The DeKalb Board of Ethics voted unanimously to fine and reprimand her on May 25.
It ruled that Brownlee bought $150 in Office Depot gift cards for herself using her county-issued Visa purchasing card; failed to keep receipts for her expenses as required; and took part in a June 29, 2012, campaign event during her work hours.
Brownlee, who quit her position in early 2016, did not attend the hearing.
The fine is the first levied by the Ethics Commission, which acquired the power to fine ethics offenders in a November 2015 referendum.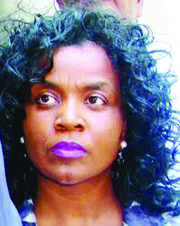 The ethics charges against Brownlee were filed on May 30, 2014, by Stone Mountain resident and Unhappy Taxpayer and Voter organization co-founder Viola Davis, who also accused Barnes Sutton of misusing her purchasing card.
Barnes Sutton is challenging the law that created the Ethics Commission and her case has been put on hold.
In her lawsuit filed in DeKalb Superior Court in November 2015, Barnes Sutton asked for an injunction against ethics charges on the grounds that the board lacked constitutional authority.
That suit is still pending.
In her complaint against the two, Davis said Barnes Sutton and Brownlee misused $75,000 in county funds dating back to 2011.
Davis told CrossRoadsNews on June 1 that Brownlee's portion of those expenses totaled about $25,000.
"Don't get me wrong – I'm not saying she was blameless. But I felt like Brownlee got thrown under the bus," Davis said. "Most of the evidence the board's investigators discussed at the meeting involved her boss, Sharon Barnes Sutton, and it included criminal charges of theft by taking and theft by conversion covering the purchase card misuse."
Brownlee told ethics investigators that she bought the $150 in gift cards to compensate herself for official business mileage and gas expenses.
But county policy says legitimate travel expenses should be reimbursed by submitting gas receipts and mileage.
Ethics Board member Robert Tatum was surprised by Brownlee's action.
"The most disturbing part is when she said she was reimbursing herself," Tatum said.
A 2014 audit found that Brownlee failed to keep receipts for nearly a third of her $25,000 in charge card purchases.
Despite some concerns, Davis said she feels vindicated by the outcome of the board's investigations.
"It proves that we weren't focused on making a political statement but were after actual evidence," she said.
In 2015, interim DeKalb CEO Lee May restricted purchase card use by county workers, and DeKalb commissioners and their employees no longer use government charge cards.