Muhammad Ali,'the Greatest of All Time,' dies at 74
6/4/2016, 7:07 p.m.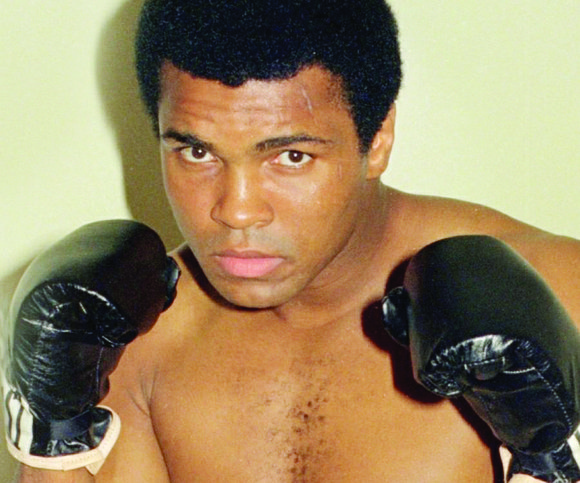 Jan. 17, 1942-June 3, 2016
Muhammad Ali, boxing's greatest, who won the heavyweight title three times and became America's goodwill ambassador to the world, died June 3 of septic shock at a hospital in Phoenix, AZ, family spokesman Bob Gunnell said. Ali was 74.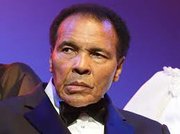 The former champion had been undergoing treatment for a respiratory illness that gradually worsened until he passed away Friday night with his wife, Yolanda "Lonnie" Ali and several of his adult children at his bedside.
Ali had struggled for 32 years with Parkinson's disease, a progressive neurological disorder sometimes caused by head trauma that impaired his speech and ravaged his body.
Ali's family is planning a funeral for June 10 in his hometown of Louisville, KY followed by a private burial service in the city.
Ali's daughter Rasheda said on June 4 that the legend was "no longer suffering." describing him as "Daddy, my best friend and hero." as well as "the greatest man that ever lived."

Born Cassius Marcellus Clay, Jr. on Jan. 17, 1942 to middle class parents Odessa and Cassius Clay Sr. in Louisville, Ali rose to become one of the most recognizable and controversial figures on the planet not only in sports but in matters of human rights.
Ali connected with boxing at the age of 12 after someone stole his bicycle. He reported the theft to Louisville Police officer Joe E. Martin and said he wanted to "whup" the thief. Martin told the young Ali he had better learn how to box first.
Martin trained Ali in the fundamentals of the sport and guided his career for the next six years as Ali won Golden Gloves championships, made the U.S. Olympic team and won a gold medal as a light heavyweight at the 1960 Olympics in Rome.
He turned professional a short time later with support from a group of Louisville business owners who guaranteed him a 50-50 split of earnings from his bouts. Ali eventually moved to Miami to work with top trainer Angelo Dundee and campaign for a shot at the heavyweight title.
As his pro boxing career took off, Ali spoke against the racial discrimination prevalent in the South and North in the early 1960s. In 1963 Ali began associating with the Nation of Islam, an American Black Muslim sect that advocated racial separation and rejected the pacifism of most civil rights activists of the era. However, Ali kept his new faith and Muslim name a secret until after his title bout against heavyweight champion Sonny Liston who agreed to fight the brash young challenger on Feb. 25, 1964.
Ali became known for his unique way of promoting the event with a litany of prefight insults and rhymes aimed at the fearsome Liston.

The trash talk included his catch phrase "Float like a butterfly. Sting like a bee."
Ali backed up the talk in one of the greatest upsets in sports history. In a brillliant display of speed, power and agility, Ali defeated Liston in a six round technical knockout. "I am the greatest! I am the greatest! I'm the king of the world," he shouted after Liston refused to come out of his corner for the 7th round.