Muhammad Ali, 'The Greatest of All Time,' remembered
6/10/2016, 6 a.m.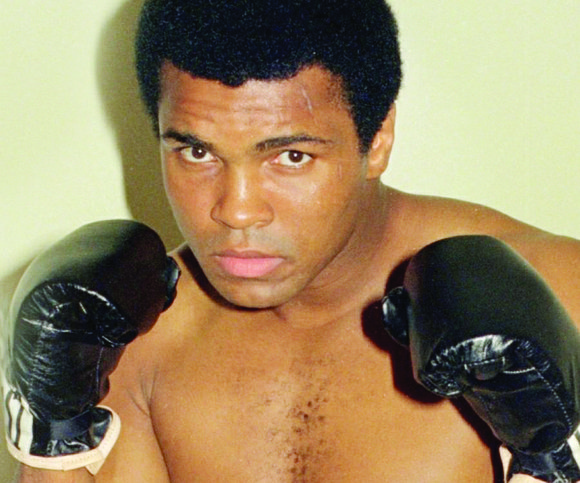 Jan. 17, 1942-June 3, 2016
Boxing great Muhammad Ali, who dazzled a generation with his athleticism, taunted his opponents with his rhymes, and left both men and women envious of his "beautiful" physique and face, was laid to rest June 9 and 10 at memorial services attended by thousands in his hometown of Louisville, Ky.
Ali, the 20th century's most significant sports figure, who declared that he could "float like a butterfly and sting like a bee," died June 3 of septic shock at a hospital in Phoenix.
He was undergoing treatment for a respiratory illness, associated with his 32-year battle with Parkinson's disease, when it became clear that he would not recover.
He was 74.
His daughter Rasheda declared him finally free.
"He is no longer suffering," she said.
Ali died surrounded by his wife of 30 years, Yolanda "Lonnie" Ali, and all nine of his children.
He was eulogized June 9 at a Jenazah, a traditional Muslim funeral service, at Freedom Hall and at a June 10 public memorial service at Louisville's KFC Yum! Center. His body was taken on a 19-mile procession through the streets of his hometown.
Ali planned both services before his death.
Ali's longtime friends, former President Bill Clinton; comedian and actor Billy Crystal, who impersonated Ali in stand-up acts; and journalist Bryant Gumbel, were among the speakers at the memorial services attended by heads of state like Turkish President Recep Tayyip Erdogan and King Abdullah II of Jordan, other celebrities, and thousands of everyday citizens who lined up and gobbled up 15,000 tickets within 25 minutes on June 8.
Actor Will Smith, who played Ali in the 2001 movie of the same name, and former heavyweight champion Lennox Lewis were among the pallbearers.
Ali, who was born Cassius Marcellus Clay on Jan. 17, 1942, began boxing at age 12.
He won the Olympic gold medal for boxing at the 1960 Rome Olympics at age 18.
Four years later, he defeated Sonny Liston in an upset match to take the WBC and WBA heavyweight championships.
When Liston refused to come out of his corner in the seventh round, Ali pronounced himself the greatest.
"I am the greatest! I am the greatest!" he shouted. "I'm the king of the world."
Eventually everyone called him "The Greatest" too.
Ali went on to become a three-time world heavyweight champion, also winning the title in 1974 and 1978.
But before that, Clay, who converted to Islam in 1964 and changed his "slave" name to Muhammad Ali, became a conscientious objector to the Vietnam War in 1967, famously saying, "I ain't got no quarrel with those Viet Cong."
Citing religious reasons, he refused to be drafted into the U.S. Army and was arrested; stripped of his heavyweight title; found guilty of draft evasion on June 20, 1967; fined $10,000; sentenced to five years; and banned from boxing for three years at the prime of his life and boxing career.
His action propelled him to the forefront of African Americans' fight for civil and voting rights in the United States in the 1960s.
The U.S. Supreme Court overturned his conviction in 1971, clearing the way for Ali to return to the ring.
He competed in historic boxing matches like the "Fight of the Century," the "Thrilla in Manila," and "The Rumble in the Jungle" and was named Sportsman of the Century by Sports Illustrated and the Sports Personality of the Century by the BBC.

In 1984, he was diagnosed with Parkinson's disease, believed to be caused by the head trauma he suffered in the ring. The disease, a progressive neurological disorder, impaired his speech and ravaged his body.
Atlanta gave him his first match on Oct. 26, 1970, after he was released from prison when no other U.S. city would host him. Suffering from tremors, he returned to the city to light the Olympic Torch at the 1996 Olympics.
Ali was laid to rest June 10 in Louisville's Clay Cemetery after a procession through the streets where he grew up and brought fame to.