GPTC launches electric charging stations
Ken Watts | 3/25/2016, 6:53 a.m.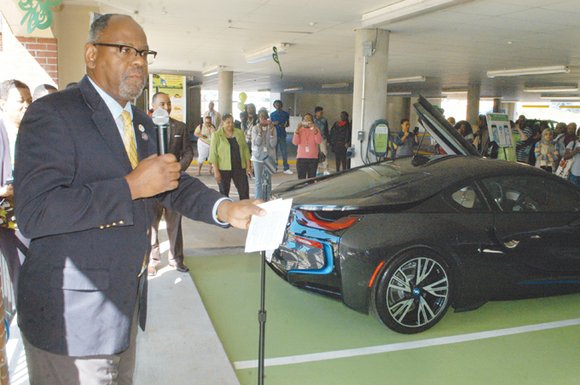 Georgia Piedmont Technical College students, staff and faculty can now charge their electric vehicles on the college's DeKalb Campus in Clarkston.
The college launched its Go Green initiative on St. Patrick's Day on March 17 to promote clean transportation.
President Jabari Simama hosted a ribbon-cutting ceremony to introduce its two new electric vehicle charging stations in the conference center parking lot of the campus. A high-tech 2016 BMW i-8 hybrid was plugged into one charger and a 2016 all-electric BMW i-3 was charging at the other one.
Both vehicles were on loan from Nalley BMW of Decatur.
The new stations, provided by Atlanta-based EnviroSpark Energy Solutions, are designed to transmit a full or near-full charge on electric vehicles in two to four hours.
"We're encouraging more students, faculty and staff to lessen our carbon footprint by going electric," Simama said. "It'll also move us closer to our goal of being a leader in campus sustainability."
Georgia Power gave the college a $1,000 rebate on electric service.
Sadie Dennard, manager of external affairs at Georgia Power and chair of the GPTC board of directors, said the utility has seen a growing need for the charging stations.
"Atlanta is the second-largest market for electric and plug-in hybrid vehicles," Dennard said. "In response to demand, Georgia Power has expanded the infrastructure needed for electric vehicle charging stations."
Simama also introduced the college's new DASH shuttle service that will carry students from the Kensington MARTA station on Memorial Drive to GPTC's DeKalb campus in Clarkston. Elsewhere, the shuttles carry students to its South DeKalb campus on Wesley Chapel Road and to the Covington campus in Newton County. GPTC gradually will switch over to alternative fuel shuttles.
"We're making a commitment, as we phase out older vehicles in our fleet, to replace them with electric vehicles," he said.