New leadership taking shape for DeKalb County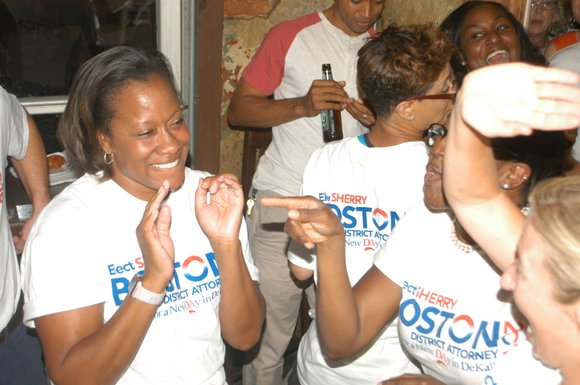 DECATUR — Voters have begun carving new leadership for DeKalb County with the election of Sherry Boston as their new district attorney, Michael Thurmond as their Democratic nominee for CEO, and their rejection of former Commissioner Stan Watson for tax commissioner and Rahn Mayo as their representative for House District 84.

When all the votes were counted for the May 24 primary, nonpartisan and special elections, Boston, the county's solicitor general since 2010, convincingly defeated incumbent DA Robert James with 61.99 percent.
Boston, who announced her candidacy for DA nine months before the election, called the path to her election-night victory "a crazy journey." She said she is excited that all of DeKalb County got behind her for a new day in the county.

"Today is a turning point for our county," Boston said. "It symbolizes that our county is excited to bring change and effective and honest leadership to the best place to live, work and play. With my leadership and the great, amazing team of folks we have, we will make a new day."
In a majority Democratic county, the voters firmly set Thurmond, the former DeKalb Schools superintendent and former Georgia labor commissioner, on the path to becoming DeKalb CEO, with 71.83 percent of the vote.
Even though Thurmond must face Republican Jack Lovelace in the Nov. 8 general election, he is expected to win the office because there aren't enough Republican votes in the county to elect his opponent.
While the voters waffled on who should be tax commissioner, they said loud and clear that they did not want Watson, who was dogged on the Board of Commissioners by ethics questions, including a vote he cast for a contract for APD Solutions while he was a paid consultant for the company.
Watson also was a no-show at candidate forums during the campaign, preventing voters from questioning him about his reasons for running and his plans for the office.
The voters also rejected DA James' chief deputy Nicole Marchand Golden for solicitor general, choosing instead Donna Coleman Stribling, who won the office Boston is vacating with 53.42 percent of the vote.
They also dumped incumbent state Rep. Rahn Mayo in the House District 84 race, choosing instead to elect his challenger, Renitta Shannon, a newcomer to DeKalb politics.
Turnout for the May 24 elections was low, with only 70,438, or 18.60 percent, of the county's 378,798 registered voters casting ballots.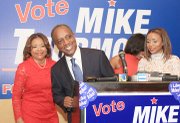 Thurmond said he was humbled by the outpouring of support and encouragement and called May 24 a historic day in DeKalb County politics.
"The future of DeKalb County is forever changed," he said election night to chants of "We like Mike" from several hundred enthusiastic supporters who gathered at the Double Tree Hotel in Tucker to watch the election returns. "Either we will all rise together or surely we will all fall and fail separately."
Thurmond told his supporters he loves DeKalb County but there is great work to be done.
"There are challenges ahead, and this job is, quite frankly, too big for one man," he said. "But it is not too big for all of us."