For a new start, new leadership and a new city, join me in voting yes to Stonecrest
Jason Lary | 11/4/2016, 6:01 a.m.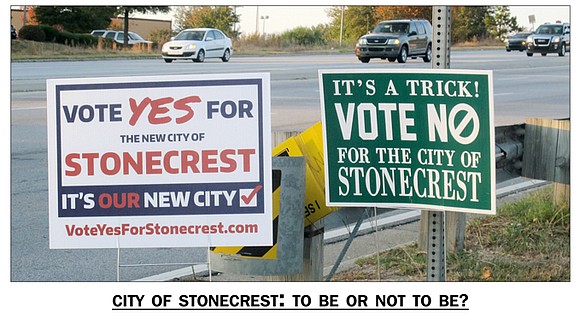 A small group of dedicated individuals have worked very hard for almost four years for all of us to have our say on forming the new city of Stonecrest.
We sacrificed our finances, family time, and lost some good friends along the way. This journey cost some of us our jobs and careers. All of which, we would do again for the right to have a vote.
I want each of you to listen carefully to words from my late father, James Lary Sr.: "What are you prepared to do about your situation?"
It is incumbent upon each of us to decide if we are courageous enough to recognize and fix our own problems.
We all know the problems of our community: A suffering mall, no real job opportunities, overgrown sidewalks, and streets littered with trash and potholes. Each of us must bear some of the blame for this situation. We elected and re-elected the same folks to do the same thing, (nothing).
As a 30-year tax paying citizen of Southeast DeKalb County, I'm not willing to wait any longer.
There is no "trick." The city of Stonecrest is feasible…without a tax increase. The proposed city passed every requirement from the State of Georgia. Stonecrest will have surplus revenue of $2 million per year and a $40 million SPLOST payout for infrastructure (roads, pot holes, capital equipment), but only if we are a city. Otherwise, that funding is split between the other DeKalb cities such as Brookhaven and Dunwoody, never to be seen by Stonecrest.
Consider the following:
-- Every new city that has formed in the last 10 years has prospered, period!!
-- Stonecrest will be the largest, organized majority African American city formed since U.S. Reconstruction (slavery).
Personally, I don't need to hear from another "shade tree" economist or newly elected "self-proclaimed" protector of DeKalb County regarding our viability.
The only question you should ask yourself is "Can we do better than what is currently happening to us?"
For a new start, new leadership and a new city, please join me now through Nov. 8 in voting yes to Stonecrest.
Jason Lary is chairman of the Stonecrest City Alliance.