Model students will show off ageless style, grace on runway
Donna Williams Lewis | 10/7/2016, 6 a.m.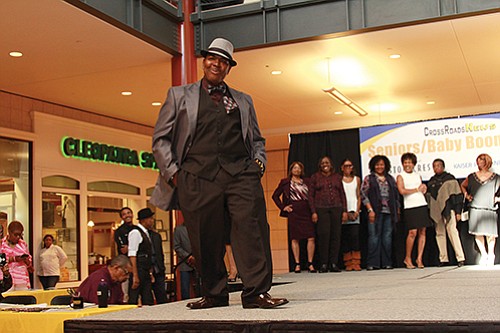 When Icon Models owner Jan Reynolds was asked to teach modeling to seniors she accepted the surprising offer, but only on a trial basis.
She wondered how many Lou Walker Senior Center members might actually sign up. All doubt vanished on the first day of class last November.
"There were 23 women sitting there waiting for me," said Reynolds, who now teaches both beginning and advanced modeling classes at the center.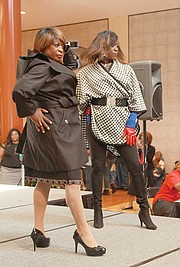 Model training can help people in all sorts of ways, Reynolds said, from developing eye contact, poise and self-confidence to learning about etiquette, hair care and skin care.

"Some women said they actually never wore makeup," Reynolds said. "They don't have to wear it every day but when they want to wear it they should know how to apply it."
Outfitted with church hats and tambourines, some of her Lou Walker students will appear in her fashion show at the CrossRoadsNews Seniors/Baby Boomer Expo on Oct. 15 at the Mall at Stonecrest.
The popular fashion show featuring fashions from Macy's, Sears and Zoom de Italy men's store will be on the Main Stage, near Sears at 2 p.m.
Other senior models in the show will don afro wigs for a Soul Train scene and carry umbrellas for a segment featuring all-weather coats.
Reynolds, 64, said her models will be strutting their stuff.
"I don't believe in old age," said Reynolds, a former Miss Black Missouri Beauty Queen, who runs pageants for women ages 50 and up and for plus-size girls, teens and women. "You should always follow your dreams and always be around positive individuals and positive environments."
The Kansas City native has represented and taught models for more than 40 years and has directed, judged and competed in numerous fashion shows and pageants. Her models participated in the closing ceremony of the 2016 DeKalb County Senior Olympics.
Reynolds first took to the catwalk in 1973 at the age of 17.
Growing up, she was teased a lot because of her 98-pound, 5-foot-7-inch frame.
She entered the Miss Missouri Teen USA pageant "to prove that I was somebody."
After four years of competing in the Miss Black Missouri of America pageant, she won the title in 1976 and was a finalist the same year in the Miss Missouri USA pageant.
Reynolds has worked for AT&T for 46 years, currently as a communications technician, recently completed coursework for a master cosmetology degree.
She's a member of the ATL Silver Classix Crew, a dance troupe that performs at Atlanta Hawks basketball games.
"It's never too late to love yourself," she said.
For more information about Reynolds' upcoming pageants, email her at moviestarjan@yahoo.com.