Mime to transport expo audience with his performances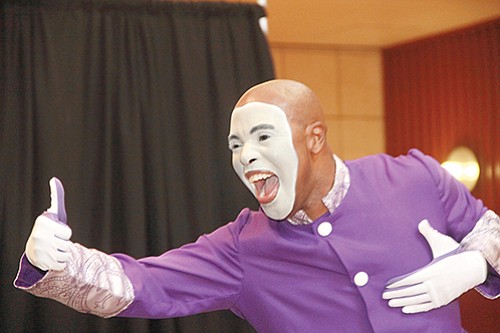 When your moniker is "The Chozen 1" you have to bring it every time and that is exactly what mime Antonio Hinton does in his performances.
Hinton, who has been miming to songs like "When Sunday Comes," "Make Me Over," "More of Thee" and "The Best in Me," for 11 years believes he was chosen by God to interpret music and be a blessing to those viewing his performances.
He calls his performances "an out-of-body experience." For those in the audience, his expressive face and fluid movements leaves them just simply mesmerized.
People often tell him that his performances touch them and Hinton doesn't take that lightly.
"I see the joy that people get when I minister to them," he said.
At the CrossRoadsNews Oct. 15 Seniors/Baby Boomers Expo at the Mall at Stonecrest, he will transport his audience with his performances to Jessica Reedy's "Better, and Marvin Winans "More of Thee."
He will be on the Main Stage near Sears on the mall's lower level at 1:15 p.m. and at 4 p.m.
Though he has only been miming since 2005, Hinton has been singing, rapping, dancing and writing songs since he was 11. He became a mime quite by accident when his then pastor while at High Power God Ministry in Jersey City, N.J. asked him to dance in a drama ministry performance.
His dramatization to Smokie Norful's "I Need You Now" was a big hit and he has never looked back.
Hinton, who now lives in Lithonia, performs across Metro Atlanta at anniversary, birthday, retirement and other parties, at wedding receptions, gospel galas and churches. He says he will continue to perform for as long as he is able.
"It's the gift that God gave me and I am not going to stop until he stops me," he said.
For more information, visit Antonio "The Chozen 1" Hinton on Facebook or call 201-284-1042
The Mall at Stonecrest is at I20 and Turner Hill Road. For more information about the expo, call 404-284-1888.