Seniors smashing more than stereotypes at Lou Walker Senior Center
Donna Williams Lewis | 10/7/2016, 6 a.m.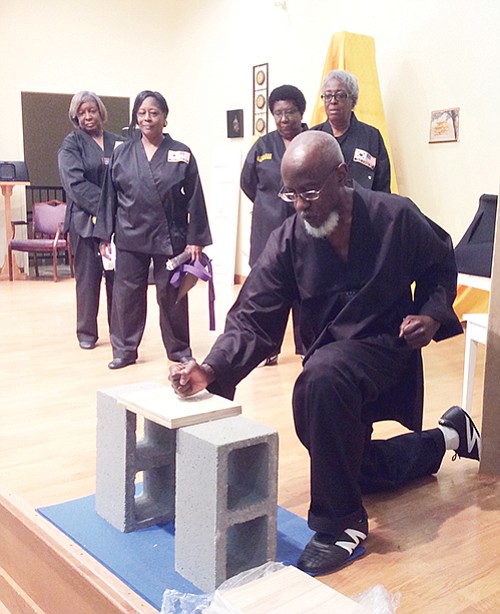 Mildred Pope knew she hadn't found her tai chi class when she walked into a room full of people kicking and punching at Lou Walker Senior Center.
Wondering what the heck was going on, Pope was about to leave when the teacher, extolling the virtues of martial arts, talked her into staying.
Five years later, she is still taking martial arts and the self-defense class that followed it.

Today, Pope, a 67-year-old grandmother of seven, is a fierce martial practitioner. She holds a brown belt in karate and plans to earn her black belt.
"I love fighting and staying in shape," she said last week. "I know how to properly defend myself, and I'm in the best shape of my life at this age."
Pope and other seniors from Lou Walker, including a 90-year-old tai chi teacher, will demonstrate their martial arts and tai chi skills on Oct. 15 at the CrossRoadsNews Seniors/Baby Boomer Expo at the Mall at Stonecrest. They will be on the Main Stage near Sears at 12:45 p.m.
Seventyone yearold Sam Washington, who attends the same class, said martial arts has improved his balance and enhanced his self-discipline.
"You have to perform the skills in the right way," said Washington, who also holds a brown belt. "For example, when I'm breaking a board if I don't do it properly I can hurt my hand."
Lou Walker Fitness Director Tyrone Bailey said seniors want to learn to protect themselves.
"They're being taken aback with what they're hearing in the news about gun violence," he said. "They want to know how to fight off attackers."
Bailey, self-defense classes for seniors emphasize pressure points and using common objects such as glasses and books as weapons.
Washington said he's thankful he's never had to use the skills he's acquiring.
But they actually did come in handy, about a year ago. He was entering the Walmart on Fairington Road when a man who was being chased by store security raced directly toward him.
"He had a mean look on his face," Washington said, sensing that the man figured he was a pushover and would knock him down if he didn't get out of his way.
"I instinctively went into fighting stance," Washington said. "He made a beeline around me."