Why I oppose the city of Stonecrest
Mereda Davis Johnson | 10/26/2016, 12:09 a.m.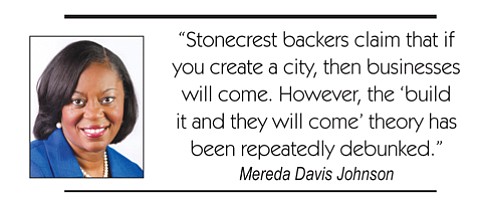 I respectfully ask that you vote "no" on the city of Stonecrest.
A new city is unnecessary and will not, in and of itself, achieve greater commercial growth. Citizens living in the proposed city would not only incur county taxes but city taxes to support a duplicate bureaucracy.
As DeKalb's demographics have changed, the county is now fragmented. Dunwoody incorporated around MARTA and took the commercial hub of Perimeter Center. The trend continued with Brookhaven, also incorporated around MARTA with well over 1 million square feet of retail/office space. Last year Tucker was created, taking with it more of DeKalb's tax base. These cities became viable at the expense of DeKalb County.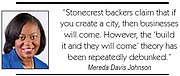 The proposed city of Stonecrest has no MARTA rail service and its most vibrant commercial cluster is Stonecrest mall, which is not as mature as the commercial sectors of Brookhaven and Dunwoody. Stonecrest backers claim that if you create a city, then businesses will come. However, the "build it and they will come" theory has been repeatedly debunked.
DeKalb's 5th Commission District, which covers the boundaries of the proposed new city, is very unique. It features abundant green space amid an urban, suburban and rural setting. It is home to Arabia Mountain and the historic Flat Rock community.
The city of Lithonia is listed on the National Register of Historic Places. Georgia State University Perimeter College and Georgia Piedmont Technical College anchor the district, along with libraries, medical institutions and the Lou Walker Senior Center.
DeKalb has appropriated $4.3 million to build the new Lithonia Senior Citizens Center and also approved $3 million for a study to bring MARTA to Stonecrest mall.
New businesses have relocated to the 5th District, including One Source, Silas-Almex, Acuity Brand and Food Chef, a meal-preparation company. Altogether, they are creating more than 1,500 new jobs.
DeKalb's Office of Economic Development is effectively marketing the county to the world as one of the last areas close to Hartsfield-Jackson International Airport with abundant industrial space and open land.

I am confident that under the leadership of our new CEO and district attorney, much better days are ahead. Rather than be divided and fragmented … it is time for us to work together!