DeKalb Super District 7 candidates talk transparency, experience
Ken Watts | 10/28/2016, 6 a.m.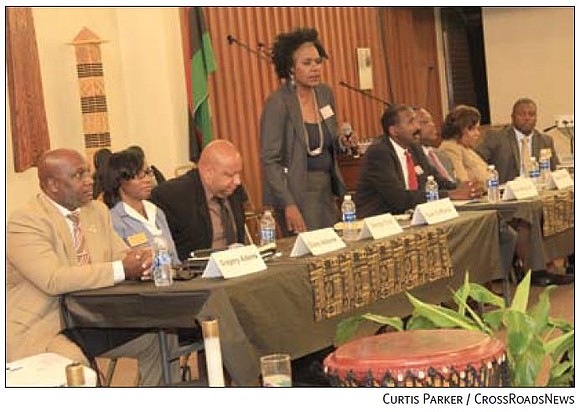 The eight candidates vying in the DeKalb Commission District 7 race tackled a range of issues ranging from transparency, and work commitment to trash at an Oct. 10 forum co-hosted by CrossRoadsNews and First Afrikan Presbyterian Church Community Action Team.
Gregory Adams, a police officer and bishop; attorney and former state representative Randal Mangham and GM manager John Tolbert were among the highlights of the CrossRoadsNews Oct. 10 forum in Lithonia.
The newspaper's editor and publisher Jennifer Parker, who moderated the two-hour discussion at First Afrikan Presbyterian Church in Lithonia, asked Adams about information gaps in a financial disclosure form that all candidates are required by law to file declaring their interests in businesses and real estate in DeKalb County.
Parker pointed out that Adams did not disclose any financial or fiduciary interests even though in his introduction he said he own two businesses.
"Is there nothing that you own in the county," she asked. "Was that an error or what is going on?"
Adams said it was not an error.
"I closed Adams Transportation and sold a second company, A&G Transportation, to a partner," he said.
"Do you own the home you live in?, Parker asked?

"I listed my P.O. box," Adams said.
Property ownership information also was missing from Tolbert's disclosure form.
"When I made changes to my voter registration information, I thought we added property information to the disclosure form." Tolbert said. "I'll go back and make sure that the form says we own a house in DeKalb County."
To a question about $11,337 tax and water leins on properties he owned in Atlanta in 2009, and a $5,000 fine for not filing his campaign disclosure forms, while a state representative, Mangham said he had already paid the taxes before the information hit the media in 2009.
"That episode was a political message from my political opponents in the legislature to keep me in line." he said. "And secondly, there was no $5,000 fine. I don't know where you got that information but that is incorrect."
The other candidates participating in the forum attended by more 60 people at First Afrikan were businesswoman Diane Adoma of Lithonia; journalist and former Pine Lake city councilman George Chidi; retired Atlanta police officer Faye Coffield of Lithonia; Edward Patton, a Stone Mountain Realtor; and Rita Robinzine, a DeKalb high school teacher who lives in Decatur.
Parker wanted to know how the candidates would balance their full time day jobs with the demanding duties of a county commissioner which includes meetings, work sessions, constituent services and many other duties.
Adams who is an Emory University police officer in addition to his roles as pastor and businessman, said his already busy schedule would not prevent him from serving. "I've already talked with the command staff at Emory and they've said they'll work with me about the meetings and duties at the BOC. So I'm ready to do the job," said Adams.
Adoma said for years she's shown an ability to balance community service work with her business schedule.