Why are Kaepernick, others frustrated about civil and human rights issues of today?
9/9/2016, 6 a.m.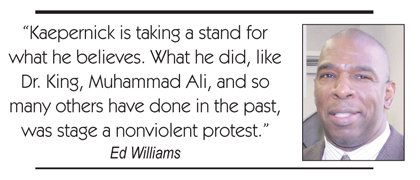 Our country is more than 200 years old, and we have gone through many trials and tribulations. I ain't no way tired. I still breathe hope in the American dream.
I still believe that America is worth the struggle. Every time we recite the National Anthem - Star Spangled Banner, or the Pledge of Allegiance, our voices of liberty and justice ring throughout the land.
It is my core belief that, although, I may not agree with your position, I agree with your right to have your own beliefs, and that everyone should have equal protection under the law.
Requiring citizens to stand and recite the Pledge of Allegiance violates the First and Fourteenth Amendments of the U.S. Constitution.
So, what does the American flag and National Anthem have to do with liberty and justice?
The flag, the Pledge and the Anthem are relatively recent traditions and they represent what we are willing to defend and die for. None are mentioned in our Constitution.
Today, there is still discrimination and the playing field is not equal.
The reality is that it has never been.
Legitimate authority comes from the people – not from the government. The defenders of freedom is not the government, it is the people.
As Dr. Martin Luther King, Jr. so eloquently stated:
"Whatever affects one directly, affects all indirectly. I can never be what I ought to be until you are what you ought to be. This is the interrelated structure of reality."
Why is Colin Kaepernick and so many others frustrated and are not silent about the civil and human rights issues of today?
Kaepernick is taking a stand for what he believes. What he did, like Dr. King, Muhammad Ali, and so many others have done in the past, was stage a nonviolent protest.
He is using his right as an American citizen to protest and not to be forced to bare allegiance to something he does not believe exist in reality.
Many communities have been under attack for decades. We struggle for equal protection under the same laws, and that there should not be two sets of rules by those who have pledged to protect and defend and uphold the laws. There is no test or requirement in the US Constitution that requires a citizen, not holding office, to protect or defend the Constitution or its laws.
The American flag and the National Anthem are words and symbols that have not always been used to protect or defend all people.
The National Anthem was not an Anthem until 1931 – 155 years after the country was founded.
There is no mention of political parties or citizenship qualifications in the US Constitution. The pledge of allegiance and the National Anthem as we know them today were not part of the American lexicon until the 20th century.
The founders believe that it was our God-given rights to be free and wrote that Congress shall make no laws "that abridge the freedom of Speech or Religion."