First presidential debate energizes Clinton's supporters
Ken Watts | 9/27/2016, 12:57 a.m.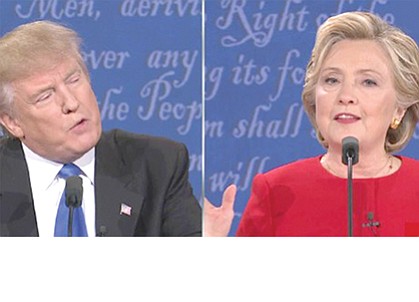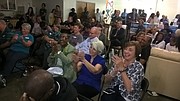 A spirited group of Democrats cheered on Presidential candidate Hillary Clinton at a watch party for the Sept. 26 debate with Republican candidate Donald Trump.
After the 90-minute sparring match between Clinton, a former US first lady and Secretary of State; and Trump, a millionaire businessman, the room of 70 people declared Clinton the winner.
Dr. Opal Ware, who chairs DeKalb Get Out The Vote, said Clinton gave her campaign a boost.
"I think she attracted more voters," Ware said. "Now I won't have to ask them to register. They will register so they can vote for her."
The watch party doubled as the grand opening of the Georgia Democratic Party's DeKalb Field Office at 619 East College Avenue in Decatur.
The debate, televised from Hofstra University in Hempstead, NY, was viewed by more than 80 million people nationwide. It was the first of three debates between Clinton and Trump. The other two debates are set for Oct. 9 at Washington University in St. Louis, MO, and on Oct. 19 at the University of Nevada-Las Vegas.
For the first time in decades, Georgia Democrats are hopeful that a Democratic candidate is in a competitive race to turn Georgia blue.
A WSB/Landmark poll taken on Sept. 22 showed Clinton within 4 points of Trump - 43 percent to his 47 percent to 43 percent statewide and leads Trump in national polls by about the same margin.
During the debate, Clinton accused Trump of being racist, sexist and a tax dodger who has refused to disclose his returns to the public because he something to hide.
"Maybe it's because he's paid nothing in federal taxes or that he is not as rich as he says he is," Clinton said.
She attacked Trump for his support of the 'birther' movement that cast doubt on President Barack Obama's citizenship. For more than five years, Trump expressed doubts about whether the President was born in the U.S. In 2012, Obama released a copy of his birth certificate that showed that he was born in Hawaii.
Still Trump fanned the flames of doubt until Sept. 16 when he said at a Washington DC press conference that Obama was born in the United States.
"He got his start in politics by promoting the racist lie that our first Black President was not eligible for the office," Clinton said.
She also criticized Trump's attitude toward women including the body shaming of Alicia Machado, winner of the 1996 Miss Universe Pageant which Trump owned. He publicly criticized the beauty queen for gaining weight after the pageant and called her an "eating machine."
Trump denied Clinton's claims about him and blasted her for supporting foreign trade deals that weakened the U.S. economy.
"Look at Michigan," he said. "Look at Ohio. Look at a lot of the states where companies have sent manufacturing jobs overseas where it's more profitable to do business."
After the debate, Trump praised himself for not bringing up her husband's, former President Bill Clinton's, indiscretions.
"I may hit her harder in certain ways next time," Trump said. "When she hit me with the women, I was going to hit her with her husband's women. And I decided I shouldn't do it because her daughter (Chelsea) was in the room."
Dexter Smith, a Clinton campaign volunteer who attended the watch party, said Clinton accomplished her mission in the first debate.
"She showed not only that she has the temperament, intelligence and experience to be president, she made Donald Trump look like the unhinged clown that he is," he said.