Ken Taylor gets Houston Award for keeping Snapfinger Road clean and tidy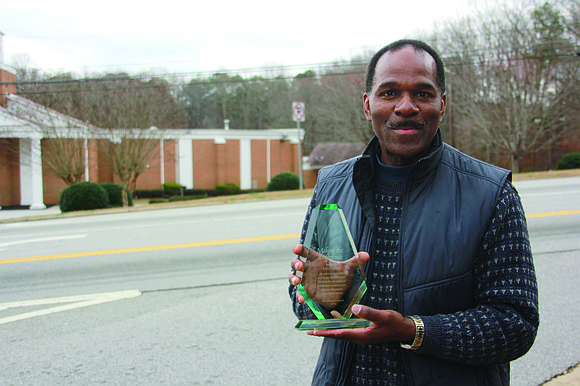 For 14-year South DeKalb resident Ken Taylor, beautifying Snapfinger Road is more than just a chore or a mission. It is his calling.
In fact, Taylor treats Snapfinger Road as if it is his own front yard.
On any given Saturday morning for the past five years, long before the sun peeks above the horizon, Taylor can be seen trekking up and down the five-mile stretch of the state highway meticulously beautifying the area.
And he has done this without fanfare or calling attention to himself.
But Taylor's inner light shone so brightly that it was impossible for DeKalb County officials to ignore.
On Feb. 7, Keep DeKalb Beautiful Director Gordon Burkette presented him with the third annual Cynthia Houston Award that recognize selfless volunteers who make their communities better.
Burkette calls Taylor a "phenomenal" guy.
"I would see him at 6 or 7 a.m. on a Saturday morning. And he picks up trash, trims trees. He puts herbicide treatment down so the weeds don't grow in the expansion joints," he said. "I'm like 'who is that dude?"
The Houston Award is named for Stone Mountain resident Cynthia Houston, who has devoted more than 15 consecutive years to keeping Stone Mountain-Lithonia Road free of litter.
Taylor, a banker, said he cleans up Snapfinger, which borders Eagles Ridge subdivision home, to make his area a personal paradise – and to motivate his neighbors to do the same. He started as a volunteer with Keep DeKalb Beautiful's Ambassador Program almost 10 years ago.
"I did it to make sure that my neighborhood stays clean because I'm proud of it," he said. "I'm proud of where I live and it's about taking responsibility and ownership of your neighborhood."
On Tuesday, while he stood on the flawless and meticulously manicured lawn on the edge of his community with a visitor, a neighbors poked her head out of her car window, beeped her horn and shouted a congratulatory message to him. This may only serve to motivate Taylor to do even more than he is already undertaking – even though his job takes him out of the state half the time.
Though he works alone most of the time, Taylor does organize group beautification efforts and collaborates with like-minded individuals and groups at regular intervals.
So far this year, he has organized a herbicidal application project on Snapfinger Road between Wesley Chapel Road and Flat Shoals Pkwy.
"We focus on the weeds and the grass coming out of the sidewalks to make it look better," he said. "And as you can see, it makes the neighborhood look great. And it helps with property values and makes people feel proud of where they live."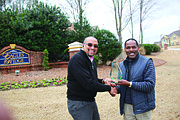 Burkette, for his part, is proud that there are residents like Taylor who take ownership of their neighborhood.
"He's just done a masterful job of coordinating and just keeping it looking immaculate," he said. "He's out of town half of the time. But he lives here and he's committed to this neighborhood. So when we see people like this, we like to take the time to say 'thank you.' "
Taylor was almost speechless at the praise.
"I really appreciate this," he said. " I do what I do because this is my neighborhood and I'm not shifting responsibility to someone else."