DeKalb's Obama Magnet School of Technology, Georgia's first to honor the nation's first black president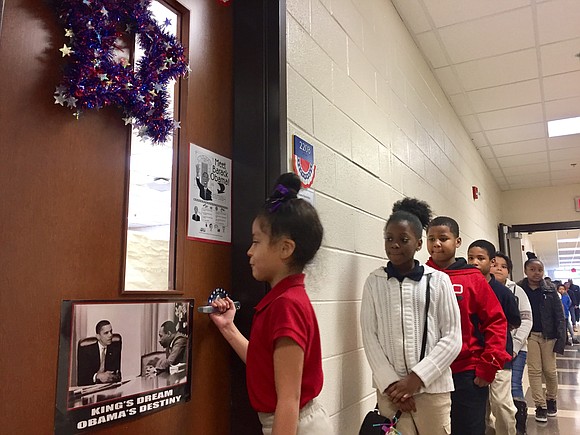 President Barack Obama may be out of office but in DeKalb County, just over 800 students are calling his name every school day at the new $23 million Barack H. Obama Elementary Magnet School of Technology on Clifton Church Road SE.
The 118,631-square-foot school, which opened Jan. 5 across the street from the Gresham Park Recreation Center in Atlanta, is the first, and to date only school in Georgia, named in honor of the nation's first African American president who left office on Jan. 20 after serving eight years.

It is one of 19 schools in 11 states – Georgia, Minnesota, California, New York, Maryland, Pennsylvania, Texas, Wisconsin, Ohio, New Jersey, and Missouri – named for either the president or former First Lady Michelle Obama.
When the DeKalb School Board voted unanimously in July 2016 to name the school for the president, schools superintendent Dr. R. Stephen Green said Obama embodied the values of a strong family, hard work, and education as the means of getting ahead.
"These values are reflected in the DeKalb County School District and are the keys to college and career readiness," Green said.
School Board chairman Dr. Melvin Johnson said Obama's public career and his family commitment offer inspiration to students and staff.
"The name on this school will remind us every day of the importance of these attributes in being good citizens," he said.
Students and the school's 102 staff, who had been housed at the former Terry Mill Elementary School on Fayetteville Road, relocated into their new school home after the Christmas break.
Angela Thomas-Bethea, the school's principal, said the looks on their faces that first day was priceless.
"They were just in awe of the school," she said. "Their mouths were wide open."
She said they are proud to carry Obama's name.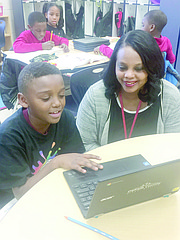 "I know that to whom much is given, much is expected," she said. "We want to represent the president's name in a positive manner and perform well for the community. We just want to live up to the name."
Smiling photos of Obama decorate the gleaming new corridors and constantly remind students of whom they honor.
Thomas-Bethea said they talk a lot about Obama, the country's 44th president who left office with a 60 percent approval rating – one of the highest of any president.
"We want to instill a sense of pride in the students, to let them know this is a special place to be and they are privileged to be here."
Still, having ties to a political leader hasn't been without its problems.
The school's name attracted some negative feedback from a small minority of people, and Thomas-Bethea said with that, and the school's expensive technology equipment, they have had to take safety measures.
"We had to increase our vigilance with security and monitoring students because there are some extreme personalities we have encountered through social media," she said.
The school is equipped with the latest technology at a cost of $1.4 million, including a tablet for every student.