Conditions at Sugar Creek are way under par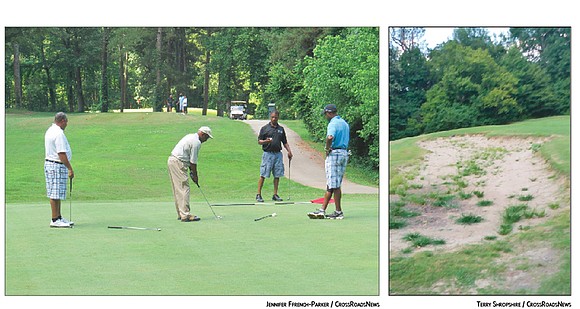 At one time, Sugar Creek Golf Course was considered the crown jewel of south DeKalb County, attracting golf enthusiasts and connoisseurs from many miles around.
Golf aficionados, novices and older players cherished the flat course, the manicured greens, and the tree-lined, narrow fairways. Its easy-to-reach location at Bouldercrest and I-285 was a big plus, too.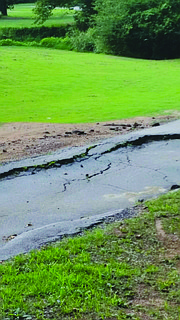 Today, the greens are shoddy and run-down, and weeds have taken over in the bunkers.
Joe Price who plays a lot of courses all over town, and the Sugar Creek course is without comparison.
"It's easily the worst-conditioned course in town," he said.
Golfers like Price, who remembers better days at Sugar Creek, are fighting mad.
They blame flagrant neglect and chronic mismanagement, and they want to see the storied course returned to its glory days when it hosted important foreign dignitaries, and was the site of major amateur tournaments and civic and philanthropic events.
Robert Mitchell, president of Sugar Creek Men's Golfer's Association, says the course has been on an uninterrupted downward spiral for the past several years.
"It has been on a continual path of erosion for the last eight to 10 years, particularly the last four years," said Mitchell, who has golfed there since Bill Clinton was in the Oval Office. "They don't do anything. They don't care if anyone comes to the golf course or not."
Mitchell says these days, the course is off the radar of most golfers.
"If you're a serious golfer, you don't go to Sugar Creek," he said.
Larry Anderson, who has been volunteering at the course for three years, says "the greens are absolutely the worst greens I've ever seen anywhere."
Price put it bluntly.
"The course is going to hell in a hand basket," he said Feb. 14. "They don't maintain the course. They don't maintain the tennis courts. The parking lot has holes in it. I mean, it's just terrible."
The course, which is owned by DeKalb County, has been through several operators in recent years. And each time, the situation has gotten worse.
Regulars can't understand why the county has allowed the course to deteriorate to this level.
"I don't expect it to be like a country club," Price said. "Just average greens, instead of the worst greens in town. You can't even hit a three-foot putt if you hit it perfectly."
The good old days
Price, a Sugar Creek diehard, remains loyal to the course even though he feels the management and county have let him down.
"I'm a senior citizen and the reason I still golf over there is because it's very flat relative to the other courses in Atlanta," he says. "As an older person, you can still walk it and get valuable exercise on it. In terms of design of Sugar Creek and the ability to walk the course, I don't think there is a better designed course in metro Atlanta. All I would expect would be in average condition."
Anderson and Price, in particular, say they have attempted to reach DeKalb County government many times over the past few years but little has been done to stem the decline.