Damien Wimes, Southwest DeKalb High's new head coach, on familiar turf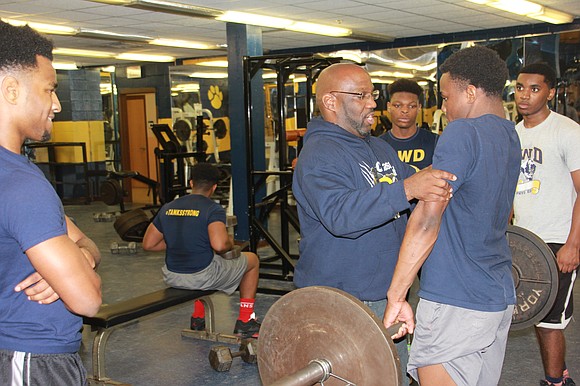 It is not even football season, but Damien Wimes, Southwest DeKalb High School's newly appointed head football coach, is sweating.
Intensity is etched into his face – and on those of his fellow coaches.
The same intensity permeates the weight room where Panther football players grind it out on dumbbells.
Despite the blizzard of noises and activities swirling around him, Wimes seems comfortable. He is finally back home where his high school playing career began and where he learned to become a man and to be a molder of men.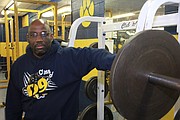 As the latest caretaker to this fiercely proud football powerhouse, Wimes aspires to replicate some of the gridiron feats of his legendary mentor and winningest DeKalb coach, Buck Godfrey, for whom he played in high school and later coached under. That means producing championship-level men – on the field, in the classroom and in the community.
In fact, Wimes (pronounced "Wims") equated his time with Godfrey, which began in 1983, as an advanced-level college preparatory course.
"He really taught me everything as far from A to Z, in terms of raising young black men, how to love young black men, to be able to coach young black men, said Wimes. "I kind of drew from that and from Coach Cobb [SWD's Hall of Fame track coach Napoleon Cobb]. I drew from both of them and to really come up with my own philosophy in terms of coaching. To be able to coach with two Hall of Famers – and learn from them – was just a blessing."
Wimes was named head coach on Feb. 9. He replaces the Panther's late beloved head coach Michael Tanks, who died suddenly on Aug. 3 of a massive stroke at age 48.
Wimes, now in his seventh overall year of head coaching, graduated from Southwest DeKalb in 1991. He returns to his alma mater after coaching at Miller Grove for six years, amassing a 30-30 record before he was terminated in 2015 for mediocre results. Despite four winning seasons at Miller Grove, the squad never made the playoffs. But it boasts a victory over Stephenson as well as two wins against his alma mater, SWD. He spent the 2016 season as an assistant head coach at Starr's Mill High School before the Southwest DeKalb High job opened up.
Wimes says he sees at his new assignment as more than coaching.
"I look at it is as a ministry," he said in between answering a reporter's question and interacting with students and athletes.
He uses he word "ministry" literally. While at Miller Grove, he started the Fellowship of Christian Athletes, a nonprofit sports ministry.
"I'm really getting the whole community involved, from high school to middle school and getting those interested involved," he said.
The community and students responded to his coaching philosophy. On his Facebook page, some players write of his positive impact on their lives. Others pined for him to return to Southwest DeKalb High, where he began his coaching career.
Now that he's there, Wimes says his coaching experience has taught him that building up students' inner strength, on multiple platforms, will translate into the coveted success he and the school seek.
He calls his alma mater "a very proud school."
"We feel we can teach them how to be good young men, teaching them academically and also teaching them from a spiritual standpoint and from a moral standpoint," he said. "And the wins will come and everything will take care of itself."
Wimes understands that he is the successor to a beloved coach and that he is stepping into a delicate situation, but he is confident that the football program can rebound from setbacks. He tells his players to perform in the classroom and in the community, to do a lot of community service, be a positive influence and embrace the school's traditions.
"If we do that, we will be successful on and off the field," he said.