DeKalb County honors 'living legacies' for Black History Month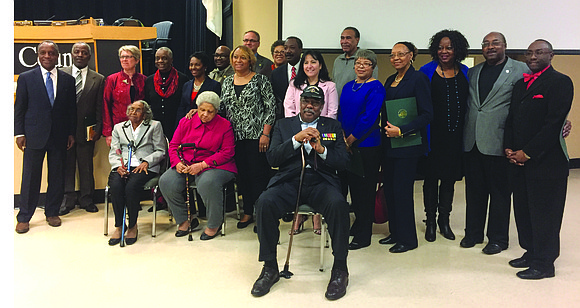 A freedom rider, a pioneering mayor, a disability advocate, and a retired military officer were among seven DeKalb residents honored with proclamations at the DeKalb Board of Commissioners annual Black History Month recognition program on Feb. 14.
Hank Thomas, one of only three of the original 13 Freedom Riders still living; Elizabeth Wilson, the city of Decatur's first African American mayor; Lois Curtis, an artist and disability advocate; and retired military officer Thomas Coleman were recognized for their contributions to black history.
Proclamations were also awarded to Johnny Waits, co-founder and president of Flat Rock Archives; former DeKalb School Board member and retired educator Pamela Speaks; community activist Priscilla Davenport; and the historic Mt. Zion community.
More than 100 residents and county employees cheered the recipients "whose community engagement inspires the ongoing collective vision for people of all colors, religion, gender, and capabilities," during the BOC's monthly meeting at the county's Maloof Auditorium in downtown Decatur.
Each recipient was selected by DeKalb CEO Michael Thurmond and Commissioners Nancy Jester, Jeff Rader, Larry Johnson, Steve Bradshaw, Mereda Davis Johnson, Kathie Gannon, and Gregory Adams, who all declared Feb. 14, 2017 in honor of the "living legacies" of DeKalb County.
Thomas, who was among the Freedom Riders – men and women, black and white – who rode buses and trains together through the segregated South at great personal peril between May and November 1961, was recognized by District 3 Commissioner Johnson. The buses with Freedom Riders were set on fire and many were brutally beaten and imprisoned.
Thomas was 19 when he rode with the Congress of Racial Equality Freedom Ride on May 4, 1961, and the May 24 Mississippi Freedom Ride from Montgomery, Ala., to Jackson, Miss. He was jailed at Parchman State Prison Farm in Mississippi. After he was released on bail, Thomas went on to participate in the July 14, 1961 New Jersey-to-Arkansas CORE Freedom Ride.

Thomas, now 75 years old, said that old freedom riders never die.
"They just get on the bus and ride away," he said with his wife of 40-plus years Yvonne Thomas at his side. Thomas, U.S. Rep. John Lewis, and Charles Person are the only surviving Freedom Riders.
Wilson was honored by Gannon for her "pioneering efforts to social justice and public service during a time where equality, for many, was only a dream."
Wilson played a key role in the desegregation of the Decatur public schools and libraries during the 1960s, was a Decatur commissioner from the 1980s, and became the city's first African American mayor from 1993 to 1998.
Bradshaw honored Curtis for her fight in the case of Olmstead v. LC, considered one of the most important civil rights cases for people with disabilities in the nation's history.
The proclamation was accepted on Curtis' behalf by Derona King, the director of Citizen Advocacy of Atlanta and DeKalb.
Curtis, who was institutionalized and medicated against her will as a young person, sought a legal ruling that people with a mental or physical disability could not be forced to remain in an institutional environment if they could be served in a more integrated, community-based setting.