Discussion on race and judicial system features Holder, Dyson and others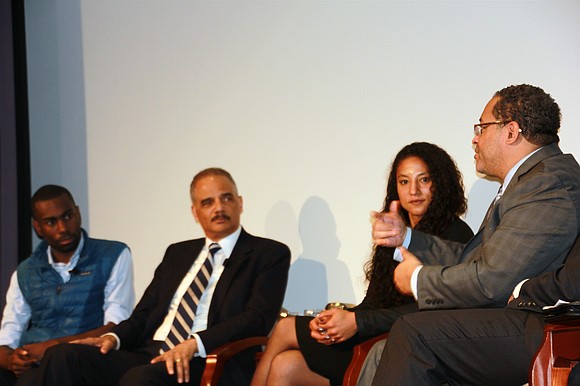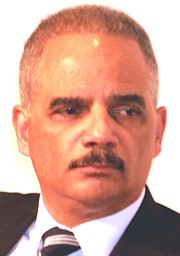 ATLANTA -- Former U.S. Attorney General Eric Holder said US history is pockmarked with many instances of using law enforcement and the American penal system to block upward mobility and repress activists fighting for equality and justice.
He said this was most prevalent during Reconstruction and the Civil Rights Movement and was one of the main reasons he accepted President Barack Obama's call to become the first African American Attorney General.
"I am proud of the work we did in the Obama Administration," Holder said Feb. 15 at the at the Jimmy Carter Presidential Library in Atlanta. "We put in place programs that I think were balanced. And we thought that if we do it right, we could bridge that gap that we know exists between people of color and law enforcement.
Holder, who made civil rights and equal rights central components during his tenure, was the country's 82nd Attorney General and the only African American to hold the office.
He was in town to participate in a "Race: The American Cauldron" discussion with Georgetown professor and author Dr. Michael Eric Dyson, Pulizer-prize winning journalist Doug Blackmon, Harvard professor Elizabeth Hinton, Black Lives founder DeRay McKesson, and DeKalb Safety director Dr. Cedric Alexander.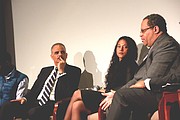 Holder, who left government in 2014 after six years as Attorney General, spoke candidly about how America historically and systematically used police and the courts to strip blacks of their rights and power. The lawyer and former judge also offered hope that a coalition of cultures will leverage its electoral and economic power to bring about justice for all of its citizens.
"Race: The American Cauldron," sponsored by the University of Virginia's Miller Center, iis part of a series of solution-based discussions in the university's New Dialogue on Race in America.
Holder, who is back at his old law firm Covington & Burling in Washington, DC, expressed unhappiness with Donald Trump administration's attempt to obliterate and rewrite the gains made by his Justice Department and the policies implemented by President Obama.
"We didn't close the gap, but I worry that that gap will widen and will go back to the old ways," he said. "I worry about where the new administration is going. I am concerned that we might go in a reverse direction."
The audience included Atlanta Falcons owner Arthur Blank and Sally Yates, who succeeded Holder at the Justice Department. Yates, who was fired by President Trump for questioning the legality of his ban travel from seven predominantly muslim country, received a rousing standing ovation from the overflow crowd when she walked in.

Dyson, a self-professed longtime critic of former President Obama, said there is a great deal of trepidation in the American heartland about President Trump and the chaos he has created with his blizzard of executive orders.
"A lot of this support for Trump is because of a smart Negro with power," Dyson said to an outburst of laughter in the racially-diverse audience. He said Trump is the backlash against having a black man in the White House. "We have to become outposts of resistance," Dyson said to applause from the mixed audience. "What you see with Donald Trump is whiteness out of control. Spoiled, unconscious, refusing to acknowledge privilege and refusing to see that it is white."

When asked how to reconcile the socio-political and cultural tumult that has been exacerbated since Trump's takeover of the Oval Office, Professor Hinton said the resistance must continue and be multifaceted.
"There is a need for cross-generational, cross-class, intergenerational coalition building," she said. "You have to organize in your local communities and build off the momentum to be able to take back our county in many ways, and kind of hold it up to our founding principles."

Hinton said that part of the awareness is to figure out how to organize and take concrete actions.
"I take that lesson from the long, black freedom struggle from the Civil Rights Movement," she said. "You know, the March on Washington ... the people didn't just come out of nowhere. It takes decades of commitment and struggle and organizing. There are new voices (today) who are galvanized and mobilized and we just need to continue that momentum."