Fireworks at first Stonecrest candidate forum
Sparks flew at the first community forum for the 20 candidates seeking offices in the new city of Stonecrest, and it wasn't between candidates.
Instead, forum host state Rep. Vernon Jones engaged in a confrontation with mayoral candidate Charles Hill Jr., with whom he has a history dating back to when both competed for the House District 91 seat last year.
Hill, who is in the race for mayor with Jason Lary and Douglas Favors, was answering the question at the Feb. 11 forum – "Why do you want to be mayor of Stonecrest?"
"I want to be mayor of Stonecrest because the foxes are already in the chicken coop," Hill said. "What am I talking about? This is Vaughn Irons, he's sitting right over here. He has a record of unscrupulous…."
Jones, who was sitting off to the side, raced to the front of the stage.
"No, no, no," he said. "We said in our opening that we are not here to demonize anyone."
"How am I demonizing?" Hill asked.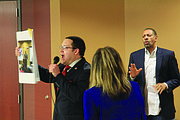 Addressing the audience, he said, "Do you all want to hear the truth? Or do you want me silenced?"
When Jones held onto the microphone and told Hill to "have a seat," the audience started chanting: "Let him speak. Let him speak. Let him finish his statement."
Jones retorted, "I am going to have order in this house. I called this meeting. I'm hosting this debate and we are going do it orderly."
As the chants got louder, Jones said that he did not want to muzzle anybody.
"It's your time and we are going to start back over with your time," he said to Hill. "But I just hope that you be respectful because I want to conduct an orderly place.… Timekeeper, we are going to give him his time."
Back with the microphone, Hill told the packed auditorium that he was just trying to bring them the truth.
"If you all don't have the right information in front of you, ya'll can't make an educated decision," he said. "There's a lot of back-room wheeling and dealing already occurring… so I'm just trying to bring the truth, that's all. Unfortunately people who oftentimes are trying to bring the truth are ostracized, criticized and made to sit down."
Favors did not attend the Feb. 11 forum.
Lary sat quietly during the uproar. In his closing statement, he told the audience they need a person who has the temperament and maturity deal with that sort of thing.
"That person will have to have the experience as I do to work in the General Assembly and continue to get things done the way we see it," he said. "That person's going to have to have the fire and the vision and the tenacity to get things done that we need in this area."
Lary, who led the city's formation committee, said that there were many naysayers along the way.
"Then last year we were voted in by each of you and now we're a city. So this is what I'm asking each of you, let me finish the game plan," he said. "Let me finish your vision and mine so we can be the greatest place on the planet."
Hill, who grew up in Stonecrest, said he has the education and the business exposure to lead the city as its mayor.
"I'm a younger person just trying to do right and do good for my community," he said. "If I seem fired up about wanting to do that, that's because I care so passionately about this city. You will have someone in me who is ready to work diligently on your behalf.