HIV Clock sculpture to track metro Atlanta's infection rate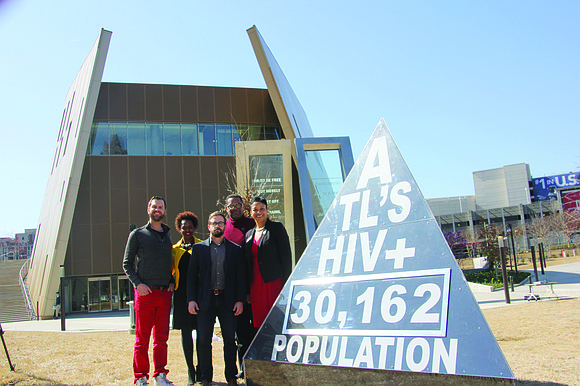 Atlanta artist Matthew Terrell delivered the most poignant message about the high body count in metro Atlanta's full-scale war against HIV and AIDS.
"If there is one idea that I want you to take home with you today, it is this: We all live with HIV," he told the media on Feb, 14 at the unveiling of the AIDS Clock art project at the Center for Civil and Human Rights in downtown Atlanta. "Even if you think you are not at risk for HIV and you don't know and will never know someone who has HIV, you still live with HIV."
It is the reason Terrell and other AIDS activists, including AID Atlanta and AIDS Healthcare Foundation (AHF), built and unveiled his 8-foot black-and-white pyramid art sculpture: "Atlanta's HIV + Population Now" on the grounds of t the Center for Civil and Human Rights.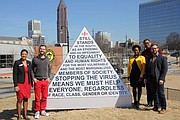 The "clock" is tracking the growing number of HIV cases in metro-Atlanta's five largest counties – Fulton, DeKalb, Clayton, Cobb, and Gwinnett. The pyramid sculpture, which is visible to motorists and passersby on Ivan Allen Boulevard, reads 30,162 people living with HIV in those counties.
In DeKalb County in 2014, the latest figures available from the Georgia Department of Public Health, 9,039 people were living with HIV, and 4,873 living with AIDS. That year, DeKalb had 422 new HIV diagnoses. Among them, 82 percent were male and 71 percent were black.
The sculpture's unveiling was in recognition of National Black HIV/AIDS Awareness Day.
Statistics from the US Centers for Disease Control and Prevention (CDC) show that the lifetime treatment for an HIV positive person is $379,000. Terrell said the costs also impacts the taxes and the cost of health insurance that every citizen pays.
Each Friday through National HIV Testing Day on June 27, Terrell will update the numbers to reflect the actual number of new HIV cases.
Georgia ranks fifth in the nation for new HIV infections, and last year, metro-Atlanta's HIV infection rate was ranked higher than some sub-Saharan African nations by AID Atlanta and the CDC, and overtook Washington, D.C. as the country's AIDS capital.
Imara Canady, AHF's communications director, who also spoke at the unveiling, said that Georgia also ranks in the top 10 states nationwide for highest STD rates.
"We're here to tell you about this major health issue that needs to be addressed in a major critical way," he said.
Nicole Roebuck, AID Atlanta director, said the HIV-AIDS statistics – 1 in 51 Georgians will become HIV positive; 1 in 2 African Americans will become HIV positive; 1 in 11 Latino will become HIV positive; and that African American women, who make up 28 percent of U.S. women, account for 18 percent of all HIV cases – have become "pretty ugly."
Between 2015 and 2016, she said there was a 300 percent increase in the number of patients being treated in Atlanta.
While legislators play "pass-the-buck" on the rising costs of HIV and AIDS care, Terrell said the taxpayers are left to foot the bill for HIV-AIDS. He bemoaned the fact that the virus disproportionately impacts the most marginalized people in our community – people of color, men who have sex with men, transsexuals, people who live in poverty, the homeless, women and sex workers.
Terrell said a HIV diagnosis further disenfranchises those people from a life of liberty and equality.
"This is not the America I want to live in," he said. "We are the richest, most powerful country in the world. And there is no reason why HIV diagnosis should prevent someone from obtaining basic human rights. When HIV robs someone of their dignity, we all live with the consequences."