Tucker High JROTC is highest ranked in DeKalb County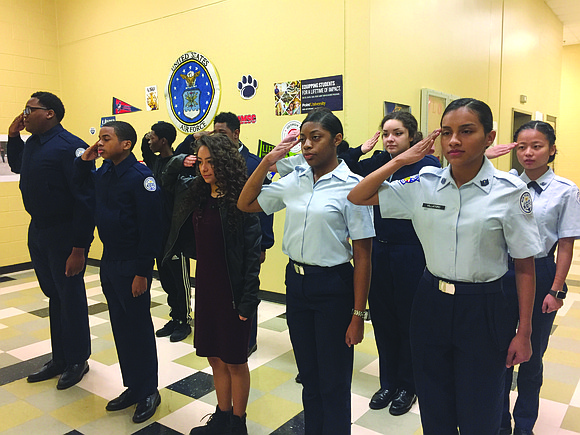 Tucker High School JROTC is now the highest-ranked Air Force Junior Reserve Officer Training Corps in DeKalb County.
The Tucker GA-9511 class of 100 students in 9th to 12th grades received the Exceeds Standards ranking also known as "a distinguished unit with merit" during its unit inspection on Jan. 23. Units are inspected every three years.
Tech. Sgt. Denise Womack, who helps train the corps with Lt. Col. Terry Robinson Sr., said that in the JROTC world, the ranking is equal to winning a major sports championship.
"That's like the Super Bowl ring," she said Feb. 14. "That's our Super Bowl ring."

To achieve the top ranking, the Tucker unit, established in 1995, had to have a minimum of 1,200 documented and verified community service hours for this school year alone.
Womack said the group completed more than 2,200 community service hours during various initiatives including two blood drives, an "empty stocking" fundraiser, and color guard performances at school and community events.
It is believed to be the first time in nine years that a DeKalb Air Force JROTC unit has achieved that ranking from inspectors based at Maxwell Air Force Base in Montgomery, Ala.
The last time Tucker achieved a significant inspection award – distinguished unit without merit - was in 2008.
Chief Betty Maldonado, the Air Force JROTC regional director who inspected the corps, examined the cadets' sincerity, the condition of their uniforms, and their form during drills and quizzed them on general knowledge and the program. She also evaluated how well the unit is managed and run.
After the inspection and debriefings with the school's principal and unit instructors, Maldonado delivered the good news to cadets.
Cynthia Villatoro, 15, said it was an emotional moment.
"I almost started crying," she said. "I was working hard for this and it felt really good to just know that we did it."
Fellow cadet Jamon Binns, also 15, said the many hours of training during class, after school, and on weekends is fun and feels like "hanging out with friends."
Fatima Perez, 16, said working with her fellow cadets feels like being part of a family.
"Coming here changed a lot for me, for the better," she said.
Tucker High is one of 240 Georgia high schools with JROTC programs for the Air Force, Navy, Army, and Marine Corps.
In DeKalb, 18 high schools have JROTC units. There are Air Force units at Avondale, Clarkston, Dunwoody, Lakeside, McNair, Redan, Towers, and Tucker high schools; Army units at Chamblee, Decatur, and Miller Grove high schools; and Navy units at Columbia, Cross Keys, Lithonia, Martin Luther King Jr., Southwest DeKalb, Stone Mountain, and Stephenson high schools.
DeKalb has no high schools with a Marine Corps JROTC unit.
Nationally, the Air Force's high school citizenship training program comprises about 125,000 students and 1,970 instructors in 889 schools.
Students are trained in organizational leadership and produce organizational charts modeled on the Air Force. They learn discipline, military drills, and general knowledge and volunteer in the community.