Stonecrest to become the state's, region's soccer mecca
In two years, the city of Stonecrest will be home to two professional soccer teams and it will be hosting regional and national soccer championships bringing thousands of fans to South DeKalb County.
First Team, SC and the Georgia Soccer Association said this week that the proposed Atlanta Sports City at Stonecrest that is going up on 200 acres adjacent to the Mall at Stonecrest, "is a fantastic location" for the fast growing sports. The planned 22 soccer fields and 15,000-seat stadium will be located along Mall Parkway between Stonecrest Trace and Evans Mill Road.
To roars of approval from a crowd of more than 200, Trey Brantley, First Team CEO, said his soccer club will field professional men's soccer team there in 2018, and follow up in 2019 with a women's professional soccer team .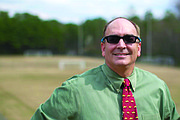 "The two teams will play in a facility that is unique through out the entire land," he said. "A sports complex dedicated to the idea that game day isn't just about the professionals. A stadium literally surrounded by soccer fields, a home for the next generation of soccer."
Greg Griffith, Georgia Soccer executive director, said the facility is going to allow players to play in metro Atlanta instead of driving hours and hours to host their tournaments. He said that the association which hosts seven tournaments will now be able to host them at Stonecrest.
"It's going to make everyone in the Atlanta metropolitan area very happy to come out and play in a top-ranked facility," he said.
Brantley did not offer a name for the men's team, but he said it will compete against "some of the best competition in the country." He said the women's team will bring Atlanta the franchise the city deserves and that they will win multiple championships.
Because Atlanta is an international town, and soccer is a world game, Brantley said it was only natural that the two should converge in DeKalb County – one of the most diverse counties in the country.
He called the Atlanta Sports City, which will begin construction in March and be built over the next four years, and its stadium and soccer fields "unique through out the entire land." Brantley said the sports city's influence will be felt throughout the entire soccer universe.
"This facility is being built in a fantastic location," Brantley said. "Close enough to the city to be convenient, but far enough away to avoid at least some of the traffic."
The stadium and fields are part of a proposed entertainment district which Brantley said will enable fans not just watch a game, but spend the day in the new city.
"The Stonecrest location is important for another reason," he said. "As we stand here, we are literally surrounded by soccer fans."
Brantley said his soccer club's research tells them that there is almost three quarters of a million soccer fans living within a 20 minute drive of this area.

"Further out, there is 1.6 million fans within a 45-minute drive," he said. "And the people in this community watch and play soccer at a rate 15 percent higher than the rest of the country."