Suits With a Purpose outfits seniors for prom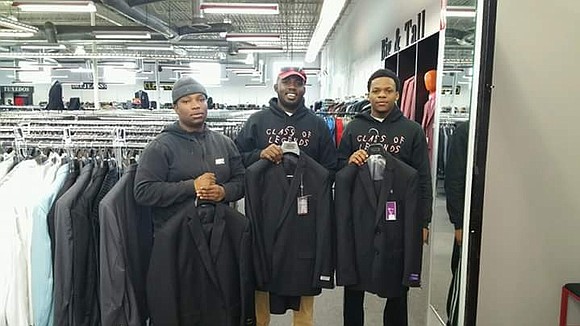 Youth advocate Nichole Brown started a program called "Suits With a Purpose" in 2016 to help buy graduating high school seniors suits for the prom, graduation and interviews for college.
Brown initiated the program because she saw little assistance in helping young men properly prepare for the prom and college from a grooming and clothing standpoint last year.
"I went into the schools and I didn't see anything for the boys," Brown said. "I saw that they had so many things for the girls to help them for the prom. But no one was thinking about the boys."
Brown, 50, a native of Wilmington, Del., is a graduate of Hampton University and understands the paramount importance of pristine presentation when interviewing for entry into elite schools.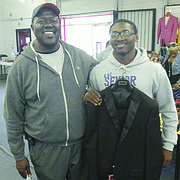 The first suit event is March 4 and the second one is is March 18. Brown said she would love for male adult volunteers to show up to assist in the process of fitting the young men and mentoring them.
Brown is a 19-year resident of Greater Atlanta who calls Gwinnett County her home. Her profession is working with the youth at JA of Georgia, so this program is just an extension of what she loves to do. Brown has assisted kids from all over the metro Atlanta area with the Suits With a Purpose campaign. But she said DeKalb students have shown the most gratitude as beneficiaries of her program.
"A lot of them never had a suit before," she said, adding that she feels blessed that she can help disadvantaged youth. "So they were very appreciative."
One of her prized students is Quan Usher, a 4.8 GPA scholastic star who has been accepted into at least 10 major universities, including the University of Michigan, Georgia Institute of Technology, the University of Vanderbilt, and the HBCU powerhouses of Howard University and Tuskegee University.
Brown said she received divine inspiration to start the program.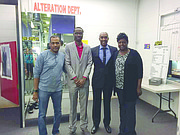 "I was in church and a friend of mine had gotten a guy a suit, and I didn't know he hadn't had a suit before ... just the way he was walking in the suit and everybody was stopping him and said, 'You look really nice!'"
In the inaugural program in 2016, Brown helped 56 students through the Suits With a Purpose. This year, she's slightly cutting back and helping 45 students: 10 suits at McNair High, 10 suits at Columbia, and another 25 suits at Towers because of the special needs students.
Even though the suits will be new, helping youth is nothing new for Brown.
"I've been helping kids all my life. I wanted to help them like I did in the '90s. I realize that this gives me an avenue into the schools, but also to help young people, and that's what I like to do. I don't like, first, how young men dress. And I try to impart to them what a suit means," Brown said.
"Just to see the parents excited and happy that they don't have to spend the money. Last year, we just gave suits away when some of the kids didn't show up. There were [random] parents in there scraping trying to buy a suit for their sons and we just gave them the suit."
Brown's Go Fund Me page is https://funds.gofundme.com/dashboard/suitsfortheprom.
You also can reach Brown at suitswithapurpose@gmail.com.