Decatur church offers 'Drive Through Prayers' to hurting people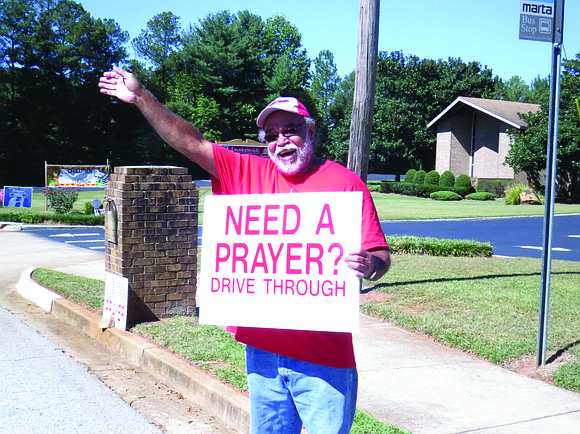 People use drive-throughs for fast-food, coffee, banking, weddings, and even funerals – so why not a drive through for prayers?
That was the vision that came to Dr. Norwida Marshall, a ministry leader at Mountainside Seventh-Day Adventist Church in Decatur in October 2015.
Marshall, a four-year member of the church and retired elementary and early childhood education director, said the Drive Through Prayer Ministry was "a very vivid direction" from God.
"The holy spirit directed me," she said.
She took the idea to the church board and three months later, the church on Rainbow Drive was inviting motorists driving by to stop for prayers.
Marshall, a third generation Seventh-Day Adventist, said that prayer is the gateway to peace.
"Everyone is in search of peace and happiness," said Marshall, who lives in Lithonia. "When you relinquish your problems in prayers, you get release from God who is greater than all of us."
Monthly on second and fourth Wednesdays between 10 a.m. and 2 p.m., seven to 10 church volunteers hold "Need a Prayer? Drive Through" placards along the sidewalk in front of the church and beckoned motorists to stop.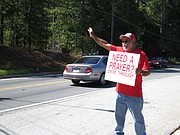 In the last 12 months, more than 325 cars have stopped.
Members will be out again this month, on Jan. 11 and 25, entreating people who feel stressed or have health, relationship, and economic issues to take a moment and have someone pray for them.
Richie Cenac of Decatur is one of the Mountainside SDA members who volunteers as often as he can with the Drive Through Prayer Ministry.
"We know that people are hurting and need prayers," he said. "And we know God will answer prayer."
Gregory Saunders, who has been pastor at Mountainside SDA for four years, said the Drive Through Ministry is part of the church's community outreach and Dorcas Society.
When he arrived at the church 2012, Saunders said he and the congregation talked about how the church can reach into the community.
"Our motto is, 'if our church was to close, would the it be missed,'" he said.
With their firm belief in prayers, Saunders said the Drive Through Prayer Ministry made sense.
"We find so many people today who are distressed," he said. "We are trying to make it better for our fellow man. Prayers changes everything."
When ministry members are not around, the church has a permanent prayer box and blank cards on the property so that visitors who need prayers leave their names and contact information so that members can call and pray with them.
When people stopped, members ask about their concerns, requests, and challenges.
Sometimes times there is a line of cars waiting for prayer in the parking lot.
Over its 12 months of operation, Saunders said that people of all ages have stopped for prayers.
"We have had millennials, generation X, baby boomers," he said. "Everybody comes."
In the last year, Marshall said that 20 to 25 of the people who stopped for prayers have returned for more prayers and some with testimonies.
"They say they had some prayers answered," she said.