Six more candidates for Stonecrest races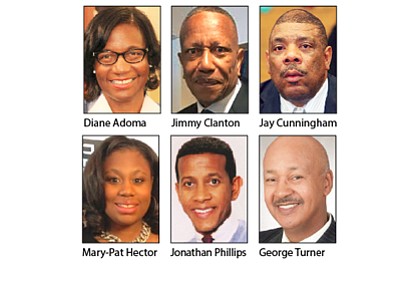 Six more candidates have announced their intentions to see elective offices in the city of Stonecrest.
They are former School Board member Jay Cunningham, Jimmy Clanton, Jr., a web developer/graphic designer, non-profit executive Jonathan Phillips and youth activist and college student Mary-Pat Hector.
George Turner and Diane Adoma also announced. The two said earlier that they were considering runs but made it official.
They bring to 13, the number of candidates who have announced for the new city's March 21 elections, ahead of qualifying which runs Jan. 9 to 12 at the DeKalb Elections & Registrations office.
Clanton, a former president of the Parks of Stonecrest neighborhood, is seeking the District 1 seat.
He said he received "an enormous amount of unsolicited requests" for him to seek the office.
"I will work hard, not just for the Parks of Stonecrest, but for all of District 1; every neighborhood, every apartment community, every business, every industry, every church, and all other entities within this city's footprint," he said. "I have at the heart of my pursuit the well-being, preservation, safety and relevance of our awesome new city."
Cunningham, Turner, Philips and Hector are all seeking the District 4 seat. They join
Cunningham, a businessman who lives off Browns Mill Road, said that he got several calls from people encouraging to seek office in the new city.
"I deliberated it, did my research and decided to go ahead," he said Wednesday.
Cunningham, a long-time resident in the new city, said that serving on the city council provides an opportunity to work to establish an economic base in the southeast corner of the county.
"It is important to have elected officials in the city who are able to communicate and connect with the rest of the county and the state," he said. "That is what I bring to the table."
Turner said that over the last 15 years he has worked on several boards, commissions, associations, coalitions, alliances and other volunteer groups to improve the quality of life for the residents of South DeKalb.
"With the passage of the Stonecrest City hood referendum we finally have the authority and resources to affect substantial change," he said. "I pledge to represent you with integrity, transparency, vigor and a sense of urgency."
Phillips, who is also a patient care, EKG, and Phlebotomist technician, has lived in Sandstone Shores off Browns Mill Road since 1999. He said he is running to be the voice of the people of District 4 and to serve others.
"I want to make sure that that there is integrity, openness and integrity," he said.
Hector, a resident of the Hunters Hill community off Salem Road, said she is running provide the city's residents with an advocate and to offer more diversity as a young person and woman. A youth activist since age 9, Hector, who is now 19 and a Spelman College Sophomore, has been national youth director of Al Sharpton's National Action Network since age 15.
"It is important for the elderly and young people to have an advocate in the city," she said. "I know that economic development is why Stonecrest came about, but economic development is not the only thing that a city needs."
Businesswoman Adoma, who is seeking the District 5 seat, said she will work to develop green, safe, walkable healthy communities with an emphasis on establishing a robust tourism and convention center to increase property values in the new city.
"I have seen the challenges presented to this district and how political decisions impact the citizens who call Stonecrest home," she said. "The right leader will not be afraid to make the hard decision, even when it is not popular or politically feasible. I am that leader."
Other previously announced candidates are businessman Plez Joyner, program manager Rob Turner who are seeking the District 2 Council seat; Eric Hubbard for District 3; and Charles S. Hill II for District 5. Jason Lary, Douglas Favors and Dr. Charles S. Hill have announced for mayor.
Qualifying opens on 9 a.m. on Jan. 9 and closes at 4:40 p.m. on Jan. 12.
The qualifying fee is $450 for council seats and $600 for mayor.