Gannon, Rader to lead Board of Commissioners in 2017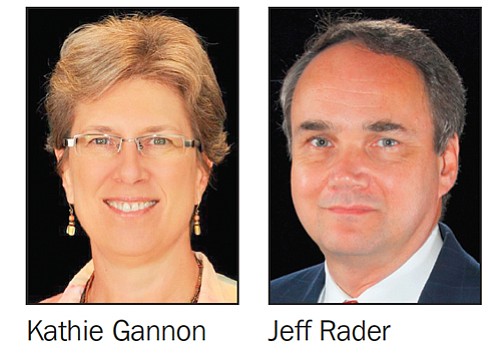 DeKalb Super 6 District Commissioner Kathie Gannon is the new presiding officer of the DeKalb Board of Commissioner and District 2 Commissioner Jeff Rader is her deputy.
Both Gannon and Rader, who are white, were elected Jan. 10 to lead the majority African American BOC.
Gannon replaces Commissioner Larry Johnson who has served as presiding officer for seven of the last eight years with a break in 2013 when Lee May was presiding.
Gannon last served as presiding in 2008. This is Rader's first time in a leadership role on the BOC.
Gannon said she is honored to have been chosen by my peers and thanked Johnson for his dedicated service.
She said her goal is to improve how the Board of Commissioners, which establishes policies, works.
"In our form of government the CEO is responsible for the day-to-day operations of the departments," she said. "The Board of Commissioners establishes policies."
Gannon's election was not without controversy.
Johnson, who sought to retain the position, said that that he had worked to move the BOC agenda forward to benefit the entire county,
"Part of a new day is that we can't go back to the old ways," he said.
But when District 5 Commissioner Mereda Davis Johnson, and new District 4 Commissioner Steve Bradshaw broke ranks and threw their support behind Gannon, Johnson lacked the votes to retained the office.
In a press release the day before the Jan. 10 meeting, Bradshaw announced that he would vote for Gannon.
He said that over her 12 years as commissioner she has "successfully represented a broad cross section of DeKalb County, North/South and Black/White.
" Commissioner Gannon has committed to lead the BOC in a more collaborative way," he said. "This approach more closely aligns with the way I prefer to operate."
Johnson, declined Davis Johnson nomination to be deputy presiding and announced that he plans to work to incorporate District 3 into a city of 150,000 people, called Prosperity.
Gannon, who was elected to fourth term in November, said she will have a Board retreat to get consensus on the issues that the BOC will address.
"There are plenty of issues we must consider: police retention, dilapidated housing, economic development, funding for roads and transportation, and more," she said. "I want our Board to reach a consensus on what we tackle first. Then I want to use our committees to focus on them, hear from experts and find solutions."