Greenforest members taking on 13 King Day service projects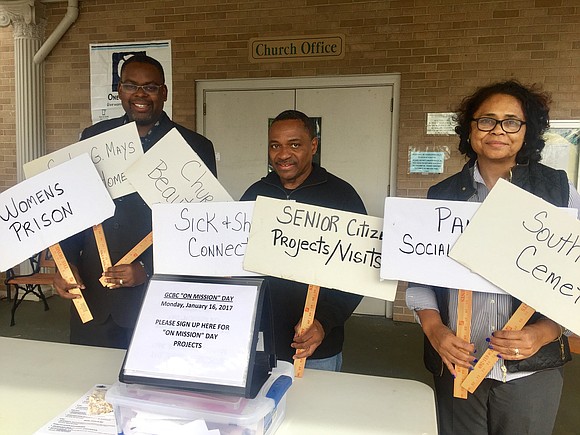 Some 400 Greenforest Community Baptist Church members will honor Dr. Martin Luther King's legacy Jan. 14 to 16 with volunteer labor at the Decatur church and throughout the community.
The volunteers will work on 13 service projects that include cleaning up and beautifying church buildings and grounds, sponsoring a canned food drive; visiting the sick & shut-ins and residents of the Sadie G. Mays Nursing & Convalescent Home; responding to prayer requests; sprucing up the homes of seniors and visiting children at the Clarkston International Refuge Center.
Dr. Emory Berry, Jr., the church's senior pastor, said the ministry aims to make a positive impact throughout the wider community.
"By the end of the day we will touch a good portion of DeKalb County," he said Jan. 11.
To honor King, who wanted to remembered as someone who "tried to love and serve humanity," Berry said it is important to make King Day, a day on rather than a day off.
"It's important that we use our hands, heart and head to help others," he said.
Throughout the three-day weekend, church volunteers will contact and spend time with the congregation's aging members and others confined to their homes or in need of domestic help. They will rake leaves, clean gutters, wash windows, change light bulbs, assist with laundry, move furniture and prepare meals.
Volunteers are also collecting hundreds of canned goods to replenish the church's social ministry's pantry, which provides food and clothing to disadvantaged families and individuals year-round.
On Monday, Jan. 16 – the national King holiday – groups of volunteers will visit nursing homes in the neighborhood and in Atlanta to bring cheer to residents. Some will clean and make repairs to buildings on the church's Rainbow Drive campus.
At the international refugee center in Clarkston, they will discuss King's life and legacy, sing songs and share peanut butter and jelly sandwiches.
Volunteers will also plant trees at South-View Cemetery, where King was temporarily buried, and where his parents, Martin and Alberta Christine, are laid to rest alongside other prominent black leaders.
Others will clean and organize rooms and cook food for occupants of the Covenant House boarding facility for homeless youth in Decatur.
A team will also visit the women's metro correctional facility where they will pray, sing and study scripture with inmates.
On Monday, the church's children will write prayer cards for policemen and policewomen at the South DeKalb precinct and deliver it to them. They will also tour the precinct and sing, and for the officers.
Husband and wife team Ron and June Coleman, who has co-led the church's Mission Ministry and organized the church's annual King Day service projects, said church members are always eager to serve.
"Our congregation are more than willing," Ron Coleman said.
After doing the work, he said members discuss their experiences.
"Most of the time they feel they are more blessed by it than the people they went out to serve,'' Coleman said,
To volunteer, visit www.greenforest.org or call the church on 404-486-1120.