12th annual Health & Wellness Expo offers help to make a new start
1/20/2017, 6 a.m.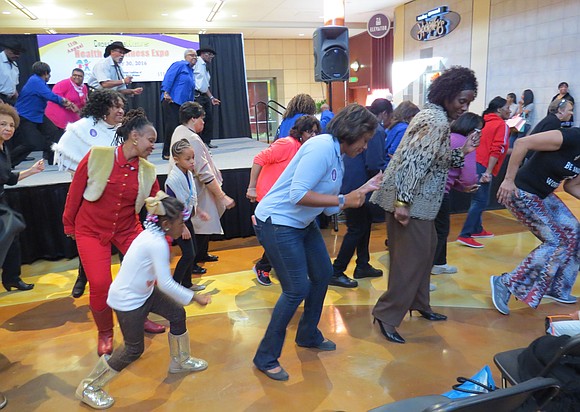 The new year is here, offering all of us the opportunity to turn over a new leaf, make a new start or just try something different in our quest for a healthy and happy life.
On most people top 10 lists is the desire to lose weight and be active, and health experts agree that those are attainable goals if we start with small steps, and that if we fall down, to get up and try again.
In DeKalb and nationally, African Americans are disproportionately afflicted by high blood pressure, heart disease, stroke and diabetes.

As it has for the last 12 years, the annual CrossRoadsNews Health and Wellness Expo at the Mall at Stonecrest on Jan. 28, has gathered health providers and county resources in one place to offer information, resources, demos and ideas to help us take better care of our health this year or to encourage us to start.
The expo, which is staged with the sponsorship of Children's Healthcare at Hughes Spalding and in partnership with DeKalb 100 Black Women, takes place from noon to 5 p.m. on the lower level of the mall.
Exhibitors include DeKalb Medical, Oakhurst Medical Centers, Atlanta Gastroenterology, Georgia Piedmont Technology College, NeXX Water, Inc., PNC Bank, Clear Caption, and DeKalb County Board of Health, Clerk of Superior Court, Sheriff, Convention & Visitor's Bureau, and Department Watershed Management.

They will have lots of information about how you can stay active, healthy and safe in 2017.
Exercise Motivator Rae Rae Clark will kick off the expo with some movement routines. Door-to-Door Fitness will demonstrate some easy steps to wellness, and a host of performers, the Lou Walker Dancer, the Hip Hop Nanas, and incomparable Beulah Boys will show how easy it to keep moving with dance.
Life Chef Asata Reid will demonstrate how to easy and tasty it is to add more vegetables to your diet.
There will be health screenings, last minute sign ups for the Healthcare MarketPlace and lots of encouragement to help you have a healthy new year.
The Mall at Stonecrest is at I-20 and Turner Hill Road in Lithonia.